President John Bardo hospitalized for chronic lung condition
Wichita State President John Bardo is currently hospitalized.
Vice President for Strategic Communication Lou Heldman confirmed that Bardo, 70, is being hospitalized for a flare-up of a chronic lung condition.
Heldman said Bardo is "fully conscious and involved" in making university decisions but that he will not be back in time to attend fall commencement on Dec. 16. Bardo has been hospitalized since "before Thanksgiving," Heldman said.
In a letter sent out Sunday to roughly 25 members of the president's executive team, the deans, and constituent heads, Bardo said his doctors told him he can expect "several weeks of convalescence."
"I'm in good spirits and continue to work with members of the Executive Team on university issues," Bardo wrote. "I'm looking forward to being back on campus and seeing you in the new year."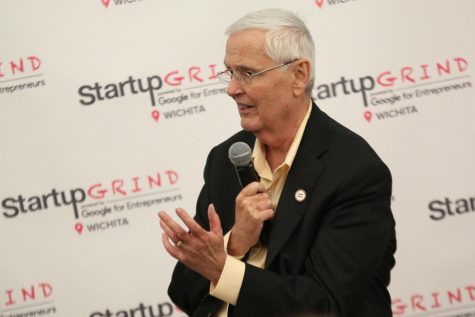 Bardo said his doctors told him that he can expected to return to the university in January.
Bardo has used a mobility scooter for much of the fall semester as he recovers from fracturing three vertebrae. He announced that he underwent a procedure in late October, and added that further treatment would be part of his recovery.
Heldman said members of the president's executive team are in charge of their own spheres of the university, but they will continue to "bounce things off of Bardo" while he is away.
"Right now, it's business as usual," Heldman said.
Heldman said Provost Rick Muma, charged with managing academic affairs, "is responsible for the biggest chunk of the university," followed by Vice President for Finance and Administration Werner Golling.
Matt Keith, director of communications for the Kansas Board of Regents, said the Regents are aware of Bardo's condition.
"The Board and KBOR President Blake Flanders will remain in contact with President Bardo and will support the rest of the Wichita State leadership team until he can return to campus," Keith wrote in an email. "The Regents will also work with Provost Rick Muma to ensure that the management of the University continues to operate smoothly."
Bardo is Wichita State's 13th president, and has held the position since 2012. He previously worked as the chancellor of Western Carolina University for 16 years.
Leave a Comment