Which colleges get the best and worst deal out of the Shock the Future referendum?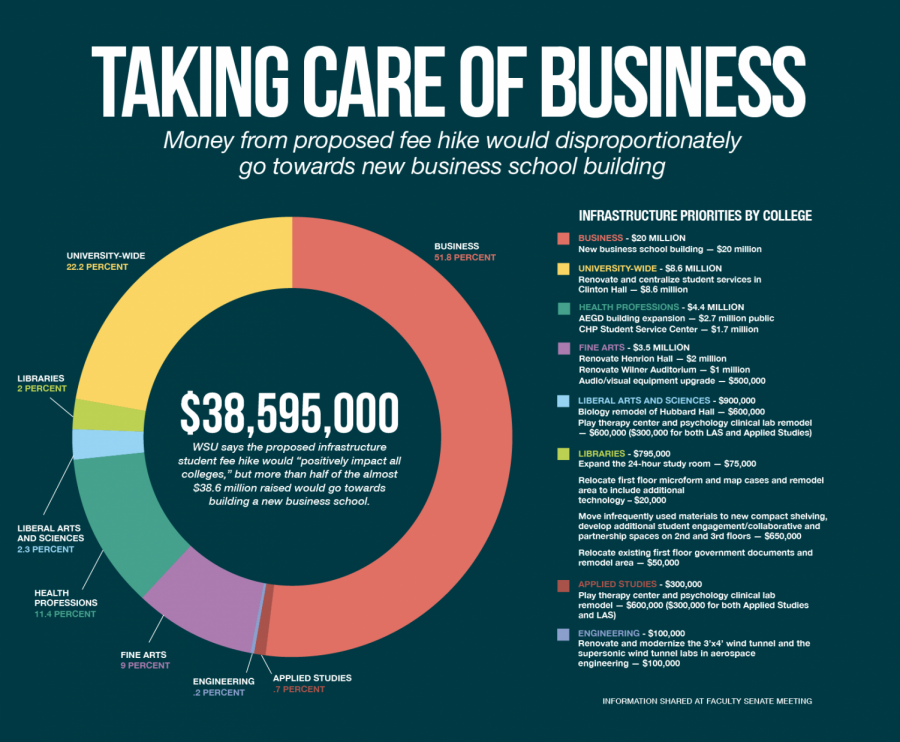 Wichita State students will vote March 4-6 on a referendum to raise student fees by $6 a credit hour. Money raised would allow the university to bond $38.6 million to address campus infrastructure priorities.
More than half of the money raised by the proposed hike — $20 million — would go towards the construction of a new business school on Innovation Campus. The combined price tag for the Liberal Arts and Sciences, Applied Studies, and Engineering infrastructure priorities is $1.3 million — just over 3 percent of all the money the fee hike would raise.
If the referendum passes, $8.6 million will go to centralizing student services in Clinton Hall, and another $795,000 will go to other projects in Ablah Library, including expanding the 24-hour study room.
The remaining $29.2 million would be split between WSU's six colleges, with $20 million allocated to the business building. That's more than 454 percent of what would go towards Business priorities if money raised by the proposed fee hike was distributed proportionally based on how many students are in each college.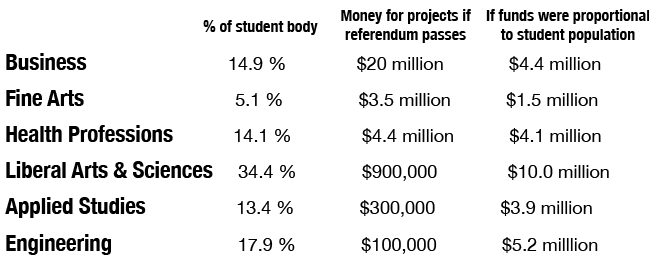 On the other end of the spectrum, if the referendum passes, just $100,000 would go towards the College of Engineering's sole priority — renovating and modernizing supersonic wind tunnel labs. That's 2 percent of the money that would go towards Engineering if funds were distributed proportionally between colleges.
Two other colleges, Applied Studies and LAS, would also receive less than 10 percent — roughly 8 and 9 percent, respectively — of the money they would have if funds were distributed proportionally. More than a third of WSU students are in LAS, making it far and away WSU's largest college.
If the referendum passes, LAS will get a $600,000 biology lab remodel as well as a play therapy center and psychology clinical lab space remodel — a priority shared with the College of Applied Studies. Applied Studies has no other infrastructure priorities included in the referendum.
Roughly 14 percent of WSU students are in the College of Health Professions. If the referendum passes, Health Professions would get $4.4 million for a student service center and the relocation and expansion of the oral health school. That's 107 percent of what Health Professions would get if funds were distributed proportionally.
For the College of Fine Arts, an audio and visual equipment upgrade and renovations to aging Henrion Hall and Wilner Auditorium have a $3.5 million price tag. Fine Arts students make up just over 5 percent of WSU's student body, so $3.5 million is more than 233 percent of the money that would go to the college if funds were allocated proportionally.
When addressing the apparent financial inequities of the infrastructure proposal, university officials have said a new business building will benefit students from all colleges, and that the referendum may be the only way for smaller projects to get funding in the near future.
"Rising tides lift all ships," Fine Arts Dean Rodney Miller said at a recent town hall meeting.
About the Writer
Matthew Kelly, Former Editor in Chief
Matthew Kelly is a former editor in chief and managing editor for The Sunflower.  Kelly graduated in 2020 with a bachelor's degree in political science...