Nurger sparks new life in Shockers' post play, Shockers thrash Vanderbilt in Dayton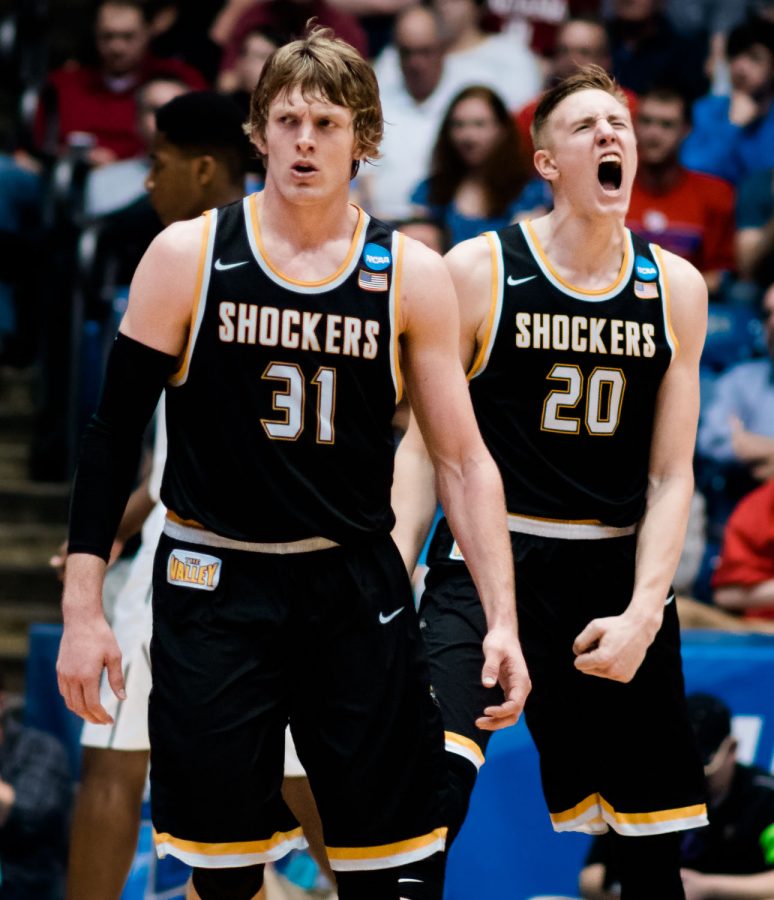 Dayton, Ohio — Adversity. It's been the motto for Gregg Marshall since November. And when sophomore forward Shaq Morris picked up two quick-fouls defending Vanderbilt 7-footer Damian Jones, Wichita State took another shot of adversity.
Humbled by challenges, Gregg Marshall recalled a similar scene from November. In the seventh-place game against Iowa in Orlando, Morris was sent to the bench, limited by foul trouble, and Anton Grady watched the game paralyzed in a hospital room. Marshall walked down to the end of the bench to speak with sophomore Rauno Nurger.
"I asked him if it was okay if I play him, he's a pleaser— he replied, 'coach, whatever you need me to do,'" Marshall said.
Nurger had previously expressed intentions of redshirting his sophomore season, extending his eligibility a year. He sat out for the first five games of the season. The whistles calling out one after the other, a couple for Evan Wessel and a back-to-back ones for Morris, Marshall walked down to the end of his bench to have that conversation with Nurger.
"When Shaq picked up two fouls, I had to be ready right away," Nurger said. "Coach Marshall reminded me Damian Jones was a potential first round draft pick, he told me to stay in front of him and not let him score."
Nurger did just that. Wichita State missed eight of their first ten shots, Nurger made a baseline jumper to cut the deficit to a point. He also picked up a crucial foul, a double-foul called on Nurger and Jones, one that Nurger ultimately won. Jones was sent to the bench for the final 11 minutes of the first half.
Nurger scored six points and snagged three rebounds in Wichita State's 70-50 win against Vanderbilt in the University of Dayton Arena on Tuesday night. Nurger also recorded a block in 17 minutes of action, the most he's played since a season-high 20 minutes in the WSU's 31-point blowout at Missouri State more than two months ago.
"Feels amazing, simply amazing, I've been waiting for this moment, and I cannot really put words to how much this one means to me," Nurger said.
Nurger, Grady and Morris defeated the duo of seven-footers, holding Jones to five points, tying a season-low, and five rebounds. Luke Kornet scored eight points and snagged nine rebounds, Kornet controlled the post for much of the game, with Jones seated on the bench. The three forwards — Grady, Morris and Nurger — combined for 21 points, 13 rebounds and two blocks.
"This is the third guy, this is not the first big man we've faced, not the first NBA potential recruit we've faced, not the first time we've been undersized, this is the challenge we keep being presented with, and we love it," senior forward Anton Grady said.
Grady says the recognition of the seven-footer's potential NBA draft status is something the post-players take pride in, he said Marshall continually brought it up, he wanted to keep the thought fresh in his player's minds.
As for Grady, aside from his 11 point scoring effort and his contributions on the glass, where he snagged seven rebounds, he said the biggest focus was motivating the 6-foot-10 underclassmen, Nurger.
"I'm proud of Rauno," Grady said. "This is a close team, I do my best to lead the bigs, we feed off each other's energy. It's all for one and one for all, we push each other, when one guy isn't doing his part, I grab him and remind them what they're playing for."
Grady and Morris have a special habit of chiming in Nurger's ear, reminding him, as well as anyone, their time will come.  
"Rauno has always been patient, waiting on his chance, he's never stopped working hard," Morris said. "He's always there when we need him."
Senior forward Evan Wessel has seen five years of NCAA Tournaments, playing contributing roles, a pivotal factor in the last year's round of 32 game against in-state rival Kansas, he preaches lessons to underclassmen to stay poised.
"You never know when your moment is going to come, Rauno's came tonight, and he came up big," he said. "He's has worked hard all year. Seeing him come in and play big in a big time game, that's fun for me. As a senior leader, it's great to see the youth of the team step up and help us big in a win, without them we wouldn't have won the game."
Tuesday was Nurger's first minutes in an NCAA Tournament game. Marshall said it's no surprise to see his sophomore forward have a breakout performance, he hints there's a lot more going on behind the scenes.
"Rauno is a pleaser," he said. "He's got a skillset you haven't seen yet, he can really shoot the ball, ultimately you're going to see that. Tonight, I really loved his defense, he was showing his hands, he was altering shots inside, he was making guards change direction from the high-ball screen and he was rebounding. This is exactly what we recruited him for."
The NCAA Tournament experience of Baker and VanVleet, who each scored a team-high 14 points, and posted a combined effort of 11 rebounds, 10 assists and three steals, led the Shockers in the 20-point victory. But it was the Tournament-first timers, who stole the spotlight.
"It's good to see young guys be special in those moments, knocking down big shots," Baker said. "For Rauno, he's aggressive and he's attacking the basket, he's rebounding the ball, and he knows his role on the team and that's why he's been so successful."
Grady made his first basket in an NCAA Tournament game. Conner Frankamp hit two game-changing three-pointers, he finished with eight points. Freshman Markis McDuffie scored seven points and snagged seven rebounds.
"I get more excited for teammates than I do for myself, I've been in their shoes, I was pretty successful in those situations, so it's nice for me when I get to see other guys do it, too," Baker said. "It's a big time tournament, I'm doing my best to tell the guys to have fun. You never know when your next NCAA Tournament may be, you may as well make the most of it."