Bring on the madness, Frankamp ready for favorite month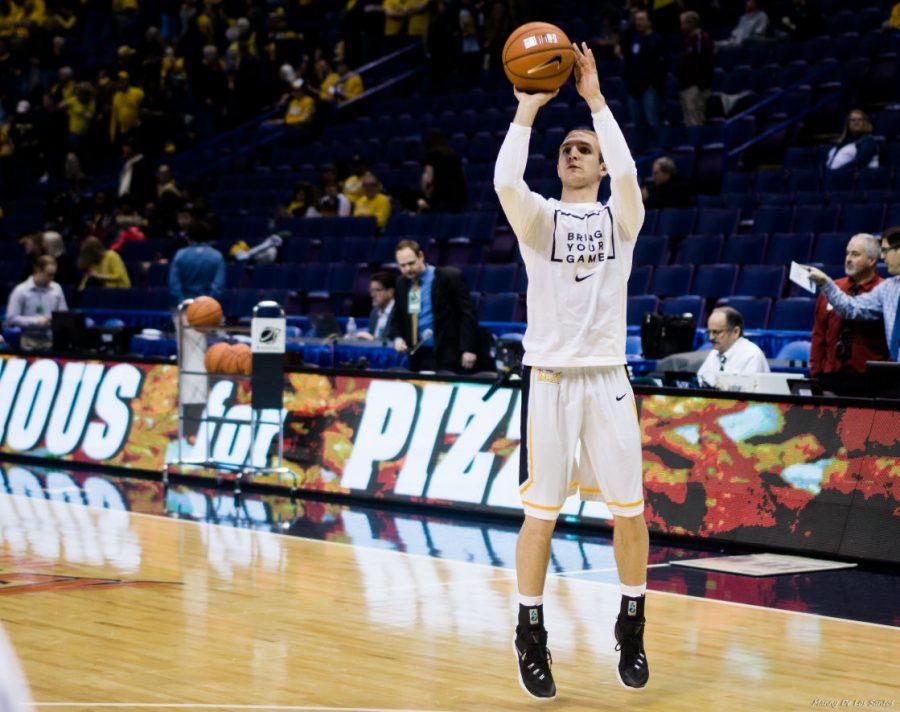 Some shooters glimpse at the bright lights, high ceilings and 19,000 seats of the Scottrade Center and quiver. Wichita State guard Conner Frankamp steps into the arena and smiles.
"I love playing here," Frankamp said.
Frankamp returns to the Scottrade Center for the second time in his career, and his first time as a Shocker.
In late March of 2014 Frankamp rotated off the bench of the second-seeded Kansas Jayhawks, where he posted a season-high 12 points on four three-pointers. The Jayhawks were routed out by seventh-seeded Stanford in the round of 32; Frankamp hit back-to-back threes in the final 30 seconds, he missed a corner-three to send the game into overtime.
Frankamp shot 57 percent from three-point range in his final game in a Kansas jersey. In Missouri Valley Conference play he's shooting 35 percent from long-distance, second best on the team, minimum 10 attempts.
"It's mostly mental," Frankamp said of his shooting percentage. "It's also matter of my teammates making plays and setting me up for good shots."
Gaining early confidence is the biggest booster for Frankamp. In the regular-season finale against Illinois State, Frankamp subbed in after Ron Baker picked up two quick fouls. Frankamp connected on his first attempt, swishing a three-pointer.
"Hitting shots early gives me confidence," he said. "If I miss a shot early I need to think positively and find other ways to contribute."
For Frankamp, the home court advantage has not worked in his favor. In conference play, he's been better on the road averaging 41 percent from long-range, where at home he averages 26 percent.
In fact, he may just like the state of Missouri. In Springfield, he produced four three-pointers, tying a season-high.
On Wednesday, Frankamp tweeted out, "Let the Madness of March begin."
He said he was anxious to play in March, and there's no shortage of reasons why. The large venues, the added intensity of survive and advance chipping at your heels and the added national attention are all reasons he said March means so much to him.
March has been generous to Frankamp. As a Jayhawk he produced his best numbers in the third month. In his final two games he scored double-digits for the first time in his collegiate career, scoring 10 in the round of 64 against Eastern Kentucky and 12 in the round of 32 against Stanford.
Maybe it's luck, maybe it's the calendar or maybe it's the spotlight.
"It's the best month of the year," he said. "It's where great teams come along and make their mark, we want to be one of those teams that makes a big mark."
Friday's quarterfinal matchup against Loyola will be the first action in March he will participate in for two seasons. He's undoubtedly anxious to leave his mark on his favorite calendar month.
"I just love it," he said. "I'll never get tired of playing in this month."
About the Writer
Evan Pflugradt, Sports Editor
Evan Pflugradt is the former Sports Editor of The Sunflower.

Pflugradt past served as the publication's Editor in Chief, Opinion Editor and a reporter....