Wichita State baseball leaves runners stranded, drops a tight match with Oklahoma State
Wichita State baseball dropped to the Oklahoma State Cowboys in a one-score loss on Wednesday.
The Cowboys have now swept the Shockers in the two's home-and-home series.
Wichita State's Ryan Stuempfig struggled with command early with three walks in the first two innings. Despite these walks, Stuempfig kept the Cowboys scoreless until he was ultimately pulled after 1 ⅔ innings of work. Eric Haase came in relief and escaped a second-inning jam and pitched 2 ⅓ scoreless innings.
Oklahoma State finally broke the deadlock in the fifth inning as Cade Cabbiness started out the inning with a leadoff single but advanced to second after the ball was misplayed by Wichita State's Jacob Katzfey. Noah Sifrit then clubbed an RBI-single to put the Cowboys ahead 1-0.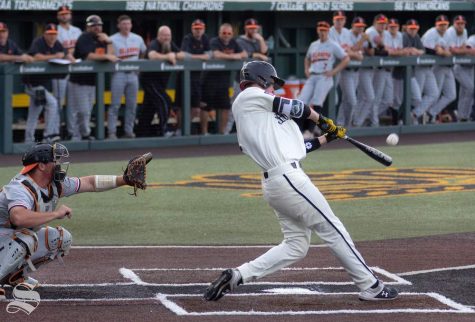 The Shockers had multiple opportunities to tie the game — the first came in the sixth inning. Wichita State had runners on second and third with one out but left the two stranded after a Luke Ritter ground out and a Ross Cadena strikeout.
Wichita State had another chance to tie it up in the seventh this time with runners on second and third and nobody out. But once again the Shockers were unable to get a run across. Mason O'Brien struck out, Alex Jackson lined out, and Jacob Katzfey grounded out to the pitcher.
Despite inability to get a run across in the previous two innings the Shockers once again had an opportunity to get the decisive run home in the eighth. Wichita State had runners on the corners with nobody out after a Jordan Boyer double and a Hunter Gibson single. Hunter Gibson then got caught stealing, Luke Ritter struck out looking on a controversial pitch and Ross Cadena popped out to second to end the inning.
"When we had runners in scoring position and we didn't deliver one hit," Head Coach Todd Butler said. "That was pretty much the game right there."
With the loss, the Wichita State drops 18-15 on the season.
Next up, the Shockers host Houston for a three-game series.
Leave a Comment
About the Contributors
Sean Marty, Sports Editor
Sean Marty is the Sports Editor for The Sunflower. Marty, a senior from St. Louis, is currently majoring in communications with a journalism emphasis and...
Marshall Sunner, Sports Editor
Marshall Sunner is the Sports Editor for The Sunflower. Sunner is a sophomore majoring in communications with a journalism emphasis. He was born and raised...