'We have a Shocker battalion now': ROTC program to begin fall semester
A new Army Reserve Officer Training Corps program is projected to bring up to 60 students to Wichita State this fall, Provost Rick Muma said Thursday at the program's announcement in the Experiential Engineering Building.
That projected number came from military officials working with the university to develop the program — a program that has been years in development, university and military officials said.
The program, housed under WSU's Division of Diversity and Community Engagement, will begin fall 2019 for the United States Army. The Air Force portion of the program will begin in 2020.
The program comes with ROTC scholarships that pay a $5,000 housing stipend per semester.  Students contracted with the Kansas National Guard can receive up to $4,000 a semester, in addition to the scholarship.
Students joining the ROTC program will select a major of their choosing and minor in military science.
Thursday's announcement included remarks from a number of university officials, including Marche Fleming-Randle, vice president for diversity and community engagement.
Fleming-Randle and former President John Bardo were the main WSU point people for bringing a ROTC program to campus, Interim President Andy Tompkins said.
"It's a culmination of years of hard work prioritized by President Bardo and led by Marche Fleming-Randle," Tompkins said.
The vision was Bardo's, but making it happen? That was all Fleming-Randle, Tompkins said.
Fleming-Randle said it took her 14 months to "pull everything together."
"It was a long road, but it's here," Fleming-Randle said Thursday after the announcement. "We have a Shocker battalion now."
Fleming-Randle joined WSU in 2007. She wondered then why WSU didn't have ROTC, she said.
"That was my job, to me — making sure we do have ROTC. For underrepresented students trying to go to college, this is a pipeline."
When Fleming-Randle spoke during the event, she recognized First Lady Deborah Bardo, President Bardo's wife, who sat in the front row during the announcement.
"I looked at [President Bardo] and said, 'We did it,'" Fleming-Randle said, describing the moment she and Bardo finalized the new program.
After the event, Deborah Bardo offered a quick reflection: "It's a great day for the university . . . to provide more diversity and bring more students on campus. John would have loved to be here for it."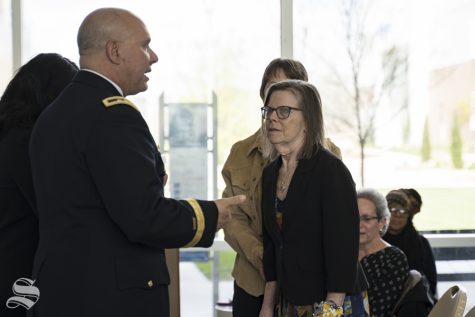 Leave a Comment
About the Contributors
Andrew Linnabary, Digital Managing Editor
Andrew Linnabary is the 2018-2019 Digital Managing Editor of The Sunflower.

He is a senior studying journalism and minoring in English. Linnabary is...
Khánh Nguyễn, Photo Editor
Khanh Nguyen is the photo editor for The Sunflower. Born and raised in Vietnam, Khanh started his journey in the U.S at 16 year old as an exchange student...