Secretary of the Navy highlights partnership with Wichita State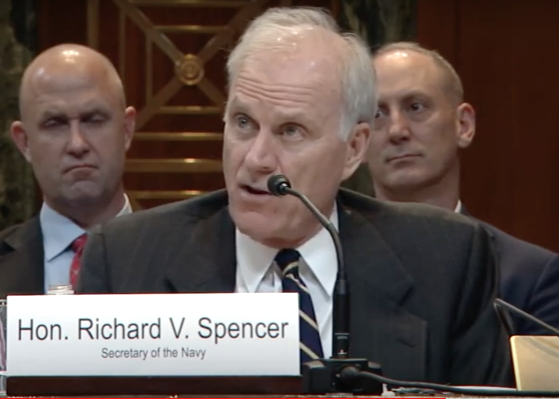 Secretary of the U.S. Navy Richard Spencer spoke about the Navy's partnership with Wichita State Wednesday before the Senate Appropriations Subcommittee on Defense.
Prompted by committee member and Kansas Sen. Jerry Moran, Spencer said he sees WSU as a model for future partnership between the Navy and academic institutions.
"I actually use Wichita State University as a venue to really present how we are doing things differently in Navy," Spencer said.
He said the Department of Defense's Strategic Capabilities Office is working with WSU in a variety of different areas, including on an analytics program called Paladin.
"(T)he front-runner is data analytics to do predictive analytics," Spencer said. "And what I mean by that is studying the wear, the tear of parts so we can predetermine through data analysis what parts will be needed.
"It sounds simple — it really is cutting-edge technology."
Spencer said WSU is also in conversations about the concept of developing a "digital twin" for the F-18, an all-weather fighter and attack jet used in the Navy and Marine Corps.
"This is a model where we don't have to physically destruct anything anymore," Spencer said. "We create the actual airframe in a digital environment, putting stresses on it. With the algorithms we know from past histories, we can test out and find out where the limits are in certain areas of the plane."
A third area of partnership is and then the automated robotic scanning and drilling.
"At the end of the day, we still assemble aircraft. It is still science, but a lot of art," Spencer said.
He said such partnerships with research institutions are becoming much more prominent.
"Three areas that we're working with Wichita State on — 10 years ago, probably not traditional," Spencer said. "Now, this is the way we want to think and work with our academic institutions."
Leave a Comment
About the Contributor
Matthew Kelly, Former Editor in Chief
Matthew Kelly is a former editor in chief and managing editor for The Sunflower.  Kelly graduated in 2020 with a bachelor's degree in political science...