Fiske Hall rededicated with memories, special meanings
Members of the Wichita State philosophy and history departments shared their memories of Fiske Hall alongside Provost Rick Muma and Liberal Arts and Sciences Dean Andrew Hippisley Friday afternoon — speaking about what the building means to them at its redediction.
Fiske Hall, the oldest surviving building on WSU's campus, reopened in January after undergoing renovations for the past two-and-a-half years. The building was originally slated to undergo renovations to become ADA compliant, but when those renovations began, the need for other renovations, such as a new air conditioning system, became obvious.
Fiske Hall houses WSU's philosophy and history departments. While renovations were taking place, both departments were temporarily relocated to Brennan Hall, across 17th Street from the main campus.
For Jeff Hershfield, chair of the philosophy department, Fiske Hall meant a second chance, he said.
After his previous university didn't renew his contract as an adjunct in the summer of 1995, Hershfield received an offer for a one-year replacement position at Wichita State. He immediately jumped at it and received his second chance.
"I responded with such enthusiasm and alacrity that I learned years later that David (Soels) had joked with colleagues at the time at how desperate I must have been to exhibit that level of excitement for nine months of modestly compensated employment in the middle of Kansas," Hershfield said in his speech during the rededication, "He was spot on."
For Muma, Fiske Hall gave him memories of his grandmother, Mary Blowers. She was a secretary for the philosophy department until her retirement in 1982. Muma's grandmother would visit his family in Houston and talk about her work, he said.
"She loved Wichita State," Muma said of his grandmother. "She loved the community and her work here. When I would visit her in the summer, we would take walks around the campus and see all the buildings, including Fiske Hall. This strong sense of community that I know to be true now is what makes this place a great pace to work."
History of Fiske
Fiske Hall was originally built as a men's dorm in 1904, and was dedicated in 1906. Charlotte Fiske, from Massachusetts, donated the money to make construction possible.
In 1918, Fiske served as an infirmary during the Influenza Epidemic, later becoming home to the music department and The Sunflower.
After 1945, ROTC was housed in Fiske alongside the music department.
It wasn't until the University of Wichita became Wichita State University that the philosophy and history department started calling Fiske home.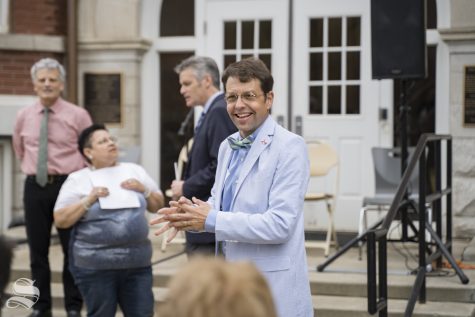 Leave a Comment
About the Contributors
Kylie Cameron, Former Editor in Chief
Kylie Cameron was the Editor in Chief of The Sunflower for the 2019-2020 school year.

She is a senior studying political science and journalism and...
Khánh Nguyễn, Photo Editor
Khanh Nguyen is the photo editor for The Sunflower. Born and raised in Vietnam, Khanh started his journey in the U.S at 16 year old as an exchange student...