Title IX reaches out to students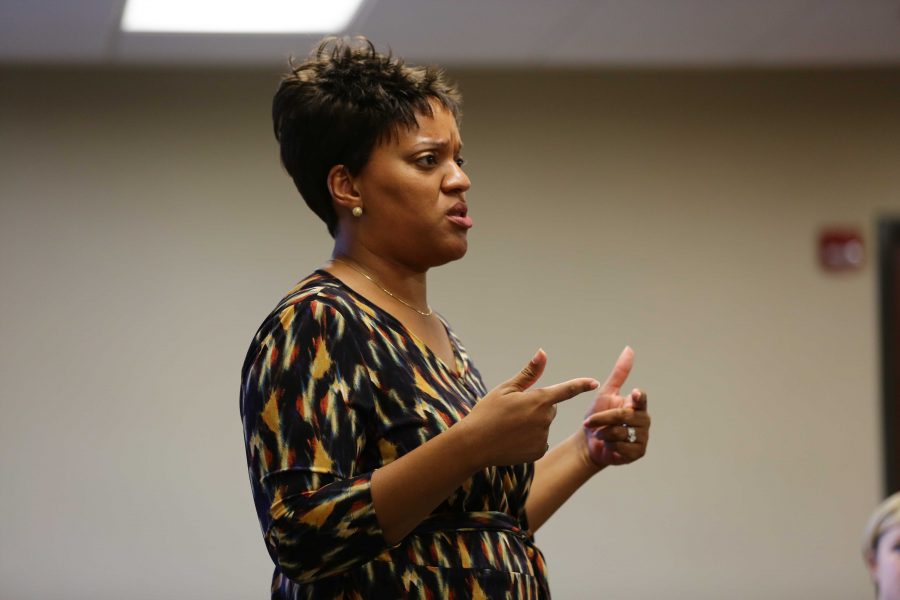 (Originally Posted: Thursday, September 8, 2016 1:03 pm | Updated: 2:17 pm, Thu Sep 8, 2016.)
When Wichita State hired Natasha Stephens as Title IX coordinator last February, she was told she was starting with a blank slate.
"They told me I could do whatever I wanted — within reason — to make the WSU community more inclusive and more equitable," Stephens said. "One of my goals is marketing and the other is to include students in discussions about policy."
Both of those goals came together Tuesday night in the Pike Room of the Rhatigan Student Center, where a group of about 15 students met for the first Title IX student forum this year to discuss what they want to accomplish. The Title IX campaign design was unveiled along with the slogan "We State United," which Stephens plans to distribute in the form of stickers, buttons, posters, flyers and T-shirts to increase the visibility of Title IX on campus.
The student forum provides Stephens with perspective, thoughts and feedback from students, something she said was missing from WSU prior to her arrival.
"It's important to have the university community involved," Stephens said. "When you say 'university community' it really needs to be that — it needs to include students. We all are around each other and we all should work together."
Stephens said she wanted to get a group of students — graduate and undergraduate — together to serve as student representation of Title IX. Wichita State has a Title IX committee, but it is comprised of only faculty and staff. She wanted to give students a voice, she said.
"That's what these forums are about," Stephens said. "My hope is that they will be on-going and that people will bring their friends and be heard. This is a safe space where students can feel free to share their ideas."
Stephens has worked at schools across the country, up and down the east coast, in the Midwest, both public and private, and the first thing she noticed on her first tour of WSU's campus was a lack of signage for Title IX.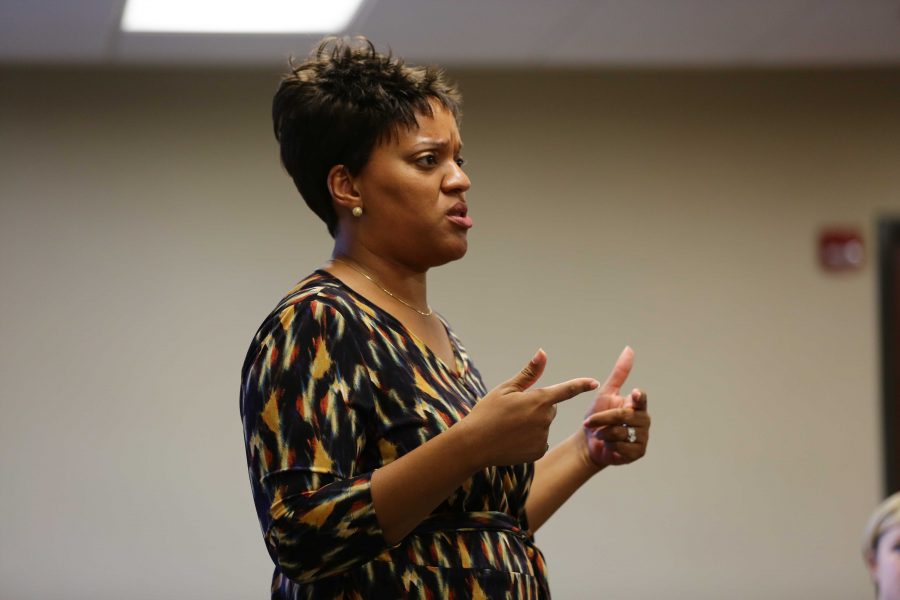 "
How can we increase awareness when no one knows who or where we are, or what we do?"
— Dr. Natasha Stephens
"How can we increase awareness when no one knows who or where we are or what we do?" Stephens said she remembered thinking.
She decided to start a campaign, but she didn't know what, exactly, a "Title IX campaign" would look like. So, she opened the competition to students, faculty and staff to see who could design the most fitting logo and slogan to market the campaign.
At the Tuesday forum, students exchanged ideas that were added to a list started in the spring at the group's first informal meeting.
"What do we want to be?" Stephens asked. "What are some actions we can take?"
Students responded with different ideas about bringing guest speakers to campus, holding an "empowerment summit" in the spring and creating a dialogue with different student organizations on campus.
"
Everyone had really good ideas … I really liked that."
— Zane May
"Everyone had really good ideas," WSU Student Advocate Zane May said. "One person had the idea to do case analyses for cases that happened at other campuses and get student perspectives for how those cases were handled and how we could handle them better here. I really liked that."
"We're going to connect the campus to the community," May said. "And the empowerment summit, if it comes through, it could be something very powerful that can be repeated in the future."
The empowerment summit, the forum decided, could be a conference style combination of different activities on campus and could involve participation with other regional universities.
The Title IX student forums will be held bi-weekly all school year and is open to all Wichita State students. The next meeting will be 6: 30 p.m., Tuesday, September 27 for refreshments, with student discussion starting at 7 p.m.
"Work in progress, work in progress," Stephens said after the forum. "I'm so excited to see what this grows into."
About the Contributor
Chance Swaim, Former Editor in Chief
Chance Swaim was the Editor in Chief of The Sunflower from fall 2017 to spring 2018.

Swaim was a graduate student in the English Department working...