WSU symphony orchestra peforms concert with faculty guest soloist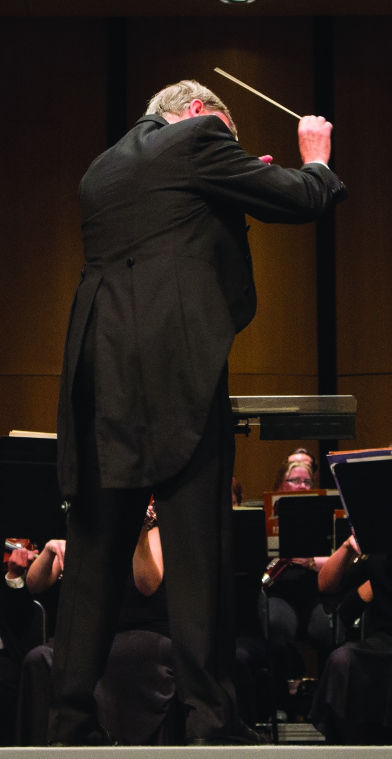 Staff Reporter
July 23, 2014
Silky sounds of strings, reeds and horns pierced the air Friday night in the Duersken Fine Arts Center, as the WSU Symphony Orchestra performed another night of musical art.
However, this had some differences from the other symphonic performances that have caught the attention of all ranges of individuals, WSU students or not.
"I was really excited to see Boris, the violist," said Aaron Galliher, a 2012 WSU graduate.
Friday night's performance featured Boris Vayner, a faculty soloist in the WSU School of Fine Arts. Vayner is also a featured violist of the St. Petersburg String Quartet.
Playing musical selections such as Symphony No. 1 in G Minor by Vasily Kalinnikov, and Mendelssohn's "Hebrides Overture," the performance won over the hearts of those of all ages.
Vayner thought the show went well.
"I thought it was very good. You can never predict what will happen, and you are always seeing accidents on stage, however, tonight went well."
Although the performance highlighted Vayner's solo viola performance, there were a few other firsts to happen at the show as well.
"This is my first time being the concert master," said Dima Estanbuli.
Estanbuli, a violin performance sophomore, said the position of the concert master is something very important to making the performance a success.
"Your job is to help cooperate with the conductor and other principle players to keep all the parts of the music together, and to work with your musician colleagues to play the same things symmetrically," Estanbuli said.
Having grown up in Syria, Estanbuli decided to attend WSU for a few different reasons.
To her, the idea that sparked her interest in attending WSU came from an unusual source.
"I visited here for a little bit before I decided to come here. My teacher's professor from back home, Alla Aranovskaya, is a violin professor here at WSU, and she referred me," Estanbuli said.
After being referred, however, Estanbuli found something special in WSU that she had not experienced elsewhere.
"When I came here, after experiencing it all, I said, 'yes, this is what I want,'" Estanbuli said.
Even though Friday night's performance included a wide variety of individuals from varying locations, it even included some audience members from far-away places as well.
Melody Routh, a student from Florida, found herself at the concert for an uncommon reason.
"I actually attend Southeastern University, and I am here taking a music appreciation course over the summer from WSU. I'm writing a paper over the performance," Routh said.
Even though Routh was at the show for something other than relaxation, that did not stop her from enjoying the highlights of the performance.
"The soloist was very good," Routh said.
Some of those attending the show are dedicated fans of the WSU Symphony Orchestra.
Phill and Linda Allen fall into that category.
"We have season tickets to the Symphony," Linda said.
The Allens, having been recently married, have only been coming to see the orchestra together for a small time. However, they have witnessed performances on their own.
Phill, a former professor, has a long and storied connection to WSU.
"I taught over here in biomedical engineering for about twenty years," Phill said.
Even for this couple, their regular attendance does not affect the magic of each performance.
"I think [this performance] has vastly fulfilled our expectations. We have been able to sponsor the orchestra master with a scholarship, so we have a vested interest in seeing the Symphony," Linda said.
Throughout the show, a few trends could be noticed. One of those is the Symphony Orchestra's uncanny ability to paint musical images that are subtle, yet powerful.
"It is so neat essaying a group of people and watching how beautifully they play together. So many styles, so many genres, they are all the same, but different," said Riki Wells.
Wells, mother of a WSU Symphony Orchestra clarinet player, said these subtle differences between players are evident in the performance as well.
"You an hear the differences in cultures between them all," Wells said. "It will be another great show. I have seen other shows with guests, and it is all part of that variety — they are all great."