'Another home:' Men's basketball lands first high school commitment of 2022 recruiting class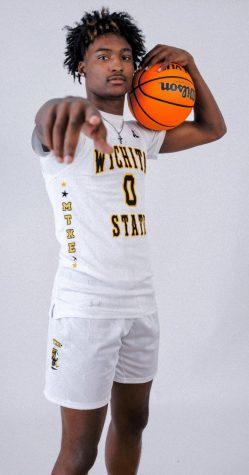 The Wichita State men's basketball team landed its first high school commitment of the offseason on Sunday. 
Jacob Wilson, a 6-foot-5 guard from Baton Rouge, Louisiana, announced his commitment to the Shockers on social media this past weekend. The commitment comes just one week after Wilson took an official visit at WSU.
"It just felt like another home," Wilson said. "All the fans, they're really supportive. I just felt it was the right place for me and the relationship with the coaches, that was really big for my recruitment."
WSU was then able to confirm the addition of Wilson, after he signed his National Letter of Intent a few hours after his commitment. Wilson joins the Shockers at a depleted position, after last year's season starting backcourt, Craig Porter Jr. and Tyson Etienne, departed this offseason.
"Jacob is a guy who can handle multiple positions because of his size, skill and basketball IQ," Head Coach Isaac Brown said in a statement. "He has a high ceiling and will be a very good player in our program."
The Shockers were one of the few high major programs to be interested in Wilson, who picked WSU over finalists New Mexico State, LSU, UTEP and Louisiana. 
Wilson tallied 1,875 career points for Liberty Magnet High School, while leading the Patriots to a Division-II state semifinal appearance in 2021 and a runner-up finish in 2022.
"I feel like I was definitely under recruited but I'm really blessed to have this big opportunity to play at a high level," Wilson said. "There's some big teams but I was most definitely overlooked."
Wilson comes to WSU after not being ranked by any major recruiting service, but was still one of the top players in the state of Louisiana last season. Wilson scored a combined 48 points against Scotlandville, one of the top basketball programs in the state.
In his senior season at Liberty High School in Baton Rouge, Wilson averaged 19.9 points, 6.4 rebounds and 3.5 assists per game. Wilson also earned first-team Class 4A honors in Louisiana.
"You've always got to have that chip on your shoulder," Wilson said. "When you're a top player in the state, you've got a target on your back so you've got to transfer that to the court. It's that demeanor that you have to step on everyone's neck to be honest, really have that grit to get after it." 
Wilson joins WSU after a mass exodus this offseason, which has seen 10 of the 13 players from last season's roster depart from the program. Currently, Kenny Pohto is the only player that saw minutes last year that is set to return. Jalen Ricks and Isaac Abidde are the other returners but both players redshirted a season ago.
So far, the Shockers have added Xavier Bell, James Rojas and Quincy Ballard, as they work to replace 92.2% of the scoring and 93.1% of the minutes from last year's team.
"I've just got to come in and produce, just build the relationships with my teammates and just win games," Wilson said. "Try and make it to the NCAA Tournament."
Leave a Comment
About the Contributor
Sean Marty, Sports Editor
Sean Marty is the Sports Editor for The Sunflower. Marty, a senior from St. Louis, is currently majoring in communications with a journalism emphasis and...