Baseball drops 10th straight game in downtown loss to No. 8 Oklahoma State
Shocker baseball's horrid skid continued on Tuesday at downtown Riverfront Stadium. The Shockers fell 12-6 to No. 8 Oklahoma State, dropping their 10th straight game. It's also WSU's 16th loss in its last 17 games. 
The Shockers have only won two games in the month of April and haven't won at home since March 27 against Creighton. WSU's 10-game losing skid is the second worst in program history, only behind a 12-game losing streak in 1950.
"We've had a great schedule, tough schedule but when you do that you find out about where you're at. Right now those answers aren't very good," Head Coach Eric Wedge said. "The fact of the matter is we're very competitive middle to late in the ballgames and then it gets away from us. "
This season started with hope following a 31-23 during Wedge's first full season last spring, but this late season collapse has all but Tuesday's loss clinched the program's first losing season since 2019, the last season under Todd Butler.
The Shockers are now 13-28 on the season and sit in last place in the American, which would be their worst finish since joining the conference in 2017. WSU is yet to win a conference game at home this season, with two road wins against Houston and East Carolina.
"Obviously getting a win would be huge for us," sophomore infielder Brock Rodden said. "Whenever you're in a slump, it feels like everything is going against you, it feels like those little cheap hits they come with two outs and two runners on. Everything feels like it's putting a little bit of extra pressure on us and we can't really buy into that bullshit. We just have to keep playing our game."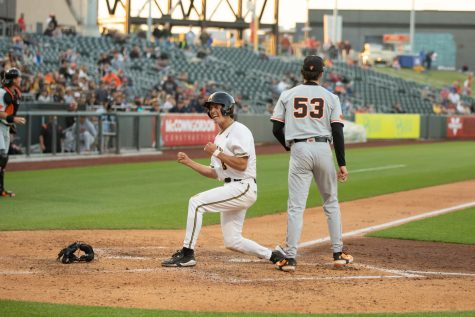 WSU's bullpen struggles have been key in the team's struggles, blowing leads consistently over this disappointing stretch. Connor Holden and Caden Favors have been the lone consistent arms out of the bullpen but WSU has struggled to get the ball to the tandem late in games. As the team's closer, Holden has only collected four saves this season despite appearing in 16 games. 
In Tuesday's loss to OSU, the Shockers held a 5-3 advantage through four innings but once again the bullpen faltered late. The Cowboys struck for six runs in the top of the fifth, after Jace Miner delivered a solid start on the mound, allowing three earned runs in four innings pitched.
"Obviously our achilles heel this year has been our bullpen," Wedge said. ""Still have not been able to figure that out, still looking for people to step up and it's one good, one bad or two good, one bad. You've got to have people you can count on, people you can trust down there."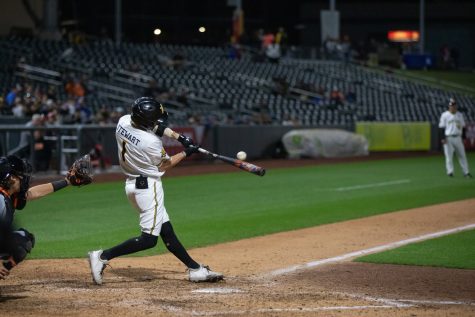 Despite the horrid stretch, the Shockers remain optimistic due to some players stepping up even though the results haven't shown in the win column. The offense has been more consistent in recent games, scoring at least five runs in four of the team's last five games. After scuffling through the first two months of his college career, Xavier Casserilla is hitting .297 at the plate over the past two weeks while also making the transition to first base.
The pitching staff has also shown improvement during the recent stretch, including the emergence of Miner, who's allowed six earned runs in 10 innings pitched against OSU this season. Graduate transfer Grayson Jones has also provided the Shockers another option out of the bullpen, lowering his ERA from 11.57 to 6.10 0ver the past month.
"A lot of good things are happening, we have some guys stepping up that have been in a hole all year," Rodden said. "It's just we've all got to click at once. If we can do that, we're a great ballclub."
The Shockers will look to snap their losing streak as they travel to Memphis for a three-game series this weekend. First pitch for game one of the slate is slated for 6 p.m.
Leave a Comment
About the Contributor
Sean Marty, Sports Editor
Sean Marty is the Sports Editor for The Sunflower. Marty, a senior from St. Louis, is currently majoring in communications with a journalism emphasis and...