'I love to see things grow:' Community garden event for Earth Day brings community volunteers
Community members tried on their green thumbs on Earth Day to volunteer in the Community Garden.
To celebrate Earth Day, Wichita State's Green Group teamed up with NetApp to put on Earthfest. There were different activities attendants could participate in, including planting in the Community Garden.
Spring planting in the Community Garden has been an annual event for the Green Group since the garden was installed in May 2020 by the now former Green Group President, Madi Laughlin.
 "Community Garden is, well, one community, so it's everyone" said upcoming Green Group President and SGA at-large senator, Joshua Mallard. "That doesn't just mean WSU, that means people from outside WSU who might be in the surrounding homes." 
Mallard also stated that anyone in the city of Wichita can come and pick fruits, vegetables and herbs from the Community Garden. 
This event was a part of Wichita State's first annual Earthfest. It brought volunteers from different parts of the community who are passionate about gardening, as well as different organizations on campus.
Linda Farha is a member of the Wichita community who is passionate about gardening and came out to volunteer for the second year in a row.
"I love to see things grow," Farha said "I love being with the people and outside." 
SGA and Green Group member Samuel Thornberry helped out in the garden to make sure everyone gets fresh food during the summer season.
"It's just something that's been on my mind recently," said Thornberry. "Helping people, making sure people that need food, get food and I think the community garden is a really good way to do that."
View Comments (2)
About the Writer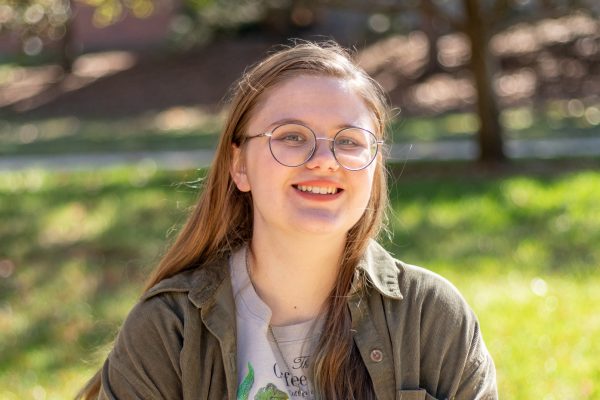 Jacinda Hall, Podcast Editor
Jacinda Hall is the podcast editor for The Sunflower. Hall is a junior majoring in communications with an emphasis in journalism and minoring in English...