Lavender Graduation honors LGBTQ students
Starting from an event in 1995 with just three graduates, Lavender Graduation became an event that universities across the country hold. WSU held its first in 2015 and its most recent last week. 
"Lavender has a deep heritage for the LGBTQ community," Spectrum officer Jess Prudence said. "There's kind of two ideas about why this is: it is the blending of the colors used to mark gay men and lesbian women during the Holocaust and a much brighter note that is that it's the blending of pink and blue or blurring of those gender binaries and norms that we're often forced into."
The event is meant to celebrate LGBTQ graduates around campus. At this ceremony, they received a special cord as well as a challenge coin, which was an item intended to remind graduates of WSU after their departure.
The event also named recipients of scholarships or awards relating to being a member of the LGBTQ community.
Coordinator of Student Diversity Programs Armando Minjarez was the recipient of The Stephanie Mott Living Authentically Award.
Three recipients also received the Richard D. Muma and Rick A. Case Equality Scholarship. Spectrum officer Allison Campbell was one of the three recipients; the other two were Trey Freund and Aerica McIntosh.
"I'm coming here on a lot of scholarships and military money and every scholarship is such a heavyweight off of my shoulders," Campbell said. "This one is especially because I spent so much time hidden from the world and not being myself, and now I'm being rewarded for being myself."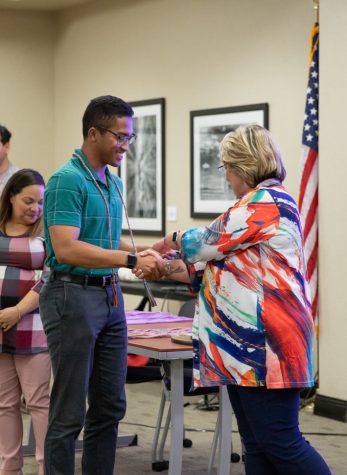 View Comments (1)
About the Contributor
Mia Hennen, Reporter, photographer
Mia Hennen is a reporter and photographer for The Sunflower. Hennen is a freshman at Wichita State majoring in English and minoring in communications,...