Softball falls short on Senior Day, wraps up second place finish in the AAC
Shocker softball's hope to repeat as American Athletic Conference regular season champions ended this weekend.  The Shockers needed two wins to win the conference, but lost twice out of their three game series with UCF. 
"We knew they were a great team," junior Sydney McKinney said. "I mean you don't get into the top 25 without being good and I think we just didn't capitalize on some of their mistakes and they did for us so we just gotta get better and we know now what we need to work on."
WSU fell in the series finale, 9-5 to the Knights on Sunday afternoon. Four WSU seniors also played their final series at Wilkins Stadium. 
Head Coach Kristi Bredbenner said senior Neleigh Herring, one of those four seniors, in particular had a great performance this weekend. 
"You know aggressive and her glove was really really great," Bredbenner said. "I thought she saved us quite a bit over there in the hot corner at first."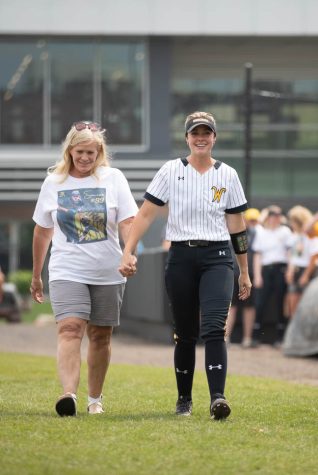 Bredbenner said her team felt the added pressure of becoming regular season conference champions again against UCF. TheShockers won the regular season and conference tournament in 2021. 
"You know we wanted to make it happen instead of letting it happen and I think that's something we are really going to have to focus on moving forward," Bredbenner said. 
Early on in Sunday's loss, McKinney hit a leadoff homer in the first inning to give WSU the early advantage. Despite a run from UCF in the third, the Shockers executed defensively, including a double play after sophomore Lauren Lucas gunned out a runner at home plate from the outfield.
Lucas then followed that up with an opposite field home run in the third as well. However, the Knights executed offensively by scoring three runs in the fourth and five in the sixth. 
WSU started to mount a comeback as freshman Cassie Passwaters delivered a three-run pinch-hit homer in the sixth to cut down the UCF lead to four. However, the Shockers attempt to get the bases loaded ended shortly after.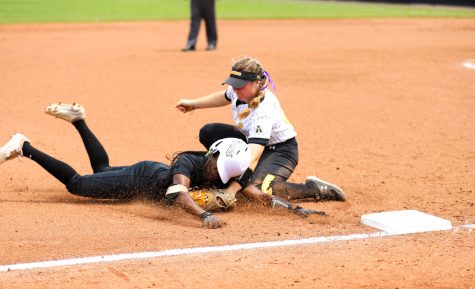 Bredbenner said the Shockers' intensity from this weekend's series is a positive impact heading into next week's conference tournament. 
"We have to play our best every game from now on because that's what postseason ball is all about," Bredbenner said." 
Heading into the conference tournament, the Shockers are the No. 2 seed and will play Memphis on Thursday, May 12 at 12 p.m. eastern time in Greenville, North Carolina.
In April, the Shockers swept Memphis with three consecutive run-rule victories.
"They're going to come out… They're probably not going to be stoked, they got us but they are going to fight just like everybody else is so we are going to give it all we got and can't look past them," McKinney said. 
View Comments (1)
About the Contributor
Emmie Boese, Sports Editor






Emmie Boese is in her third year with The Sunflower and her first as Sports Editor. Boese is excited to start her senior year next semester....