Men's basketball remains hopeful after roster transformation this offseason
Following another roster exodus this past offseason for Wichita State basketball, Head Coach Isaac Brown and the program remain hopeful as they continue to rebuild the roster. 
The Shockers had nine departures from this offseason and will have to replace 82.6% of the scoring and 81.2% of the minutes from last year's roster. But after landing seven commitments this offseason, Brown said he remains confident in WSU returning to the level of the 2020-21 season, which saw them winning their first AAC regular season title.
WSU has also focused more on recruiting through the transfer portal, with six of the seven commitments transferring from other Division-I programs. The previous two years, the Shockers only had three commitments from the portal combined.
"The portal's an opportunity to get better," Brown said at the program's annual golf tournament. "The team's in our league that are really good, they hit the portal two years ago, we didn't really hit the portal a lot. I think the portal's an opportunity to get better and we got a lot of guys that can make shots, we got more athletic, we got bigger inside and that's what we needed. 
One of the bigger moves this offseason was the return of last year's starting point guard Craig Porter Jr. The Terre Haute, Indiana native opted to return from the transfer portal for the second straight offseason, after a new NIL collective was formed. 
Porter is one of the only two returners that played minutes for WSU, along with center Kenny Pohto. Porter averaged 7.3 points and 4.9 rebounds per game, while leading WSU in three-point percentage at 34.1%.
"I think we can play him at multiple positions now," Brown said. "I think he's a guy that we can look for to do more scoring, he's a good defender, he may be the best defender on the team now. Obviously we need him to do more scoring and he's getting more and more confident. We'll try to get him in different situations where he can post up and drive it."
Along with Porter and Pohto's return to the roster, freshman Jalen Ricks and Isaac Abidde are also set to return for next season roster after redshirting a season ago. Ricks redshirted last season after tearing his meniscus, while Abidde sat out last year focusing on getting in better shape.
"I told those guys No. 1 I love them, I appreciate them sticking with the program, trusting the process," Brown said. "A lot of those guys didn't get the minutes they wanted in the first year. We went out in the transfer portal and tried to put some guys around them that could make shots."
With the many new additions to the roster, Brown said it'll be important to gain some team chemistry early on, with only four players slated to return from last season's roster.
"We've got to make sure we go out and do a lot of different things, getting those guys together so they can get to know each other," Brown said. "But it's just a lot of work, a lot of practice, being around those guys a lot and taking them out to gatherings and stuff like that."
WSU still has two open scholarships remaining for the 2022-23 season and Brown said he's mainly focusing on adding another point guard and another versatile forward to the roster.
"We've just got to get the best two players available," Brown said. "Obviously we want a guy that's athletic enough that can compete and can defend multiple positions. We've got some guys in mind so we've just got to get it done now."
View Comments (3)
About the Contributor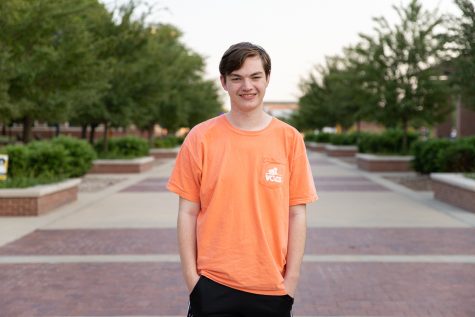 Sean Marty, Former sports editor
Sean Marty was the sports editor for The Sunflower. Marty, a senior from St. Louis, majored in communications with a journalism emphasis and minored in...