Graduate finds her place and passion in Wichita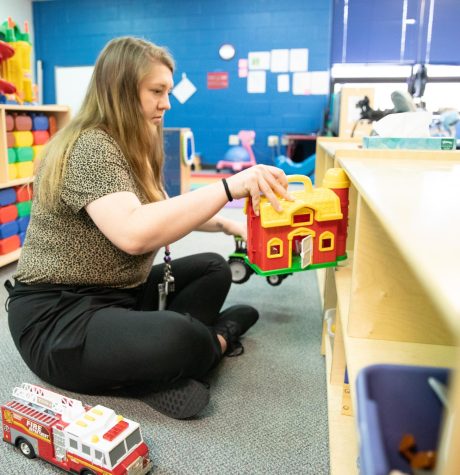 Hand paintings and crayon drawings cover the hallways of the Little Early Childhood Center where Alexandra Gilmore works. 
Gilmore is a senior at Wichita State and an early childhood unified major. She wants to be an emotional behavior disorders' teacher.
"I want to work with a lot of children that are in special education, but they have a lot of social emotional skills that they are lacking," Gilmore said. 
Gilmore is graduating after having experienced a once in a lifetime pandemic. Experiencing learning online for the first time and working virtually was hard.
"You're learning o be a teacher and on top of that you're going to learn with the teachers how to be a teacher online," Gilmore said.
Gilmore said that no one liked the pandemic, but that people have become more versatile and flexible with how they use technology.
Before coming to Wichita, Gilmore was studying pre-law at a small liberal arts school, McKendree University in Lebanon, Illinois. 
"I started off as a pre-law when I started school, which was boring and I learned that very quickly," Gilmore said. 
Gilmore's mother is a principal of an alternative placement school for kids with emotional and behavioral disorders. She asked if she could fill in a spot as a substitute teacher and after that, Gilmore was sold. 
"I changed my major and I decided right then and there that I wanted to work with that specific area of special education," Gilmore said. 
Gilmore was initially connected to Wichita because her partner decided to attend Wichita State.  She decided to choose love and attend the same school as him.
"My partner suckered me into good old Wichita, Kansas," Gilmore said.
Gilmore did not realize it at the time, but looking back she understands how much she needed Wichita.
"I was such a shadow of my mom, she is an outstanding educator and one of the reasons I agreed to move over here was because I wanted to make a name for myself," Gilmore said.
Moving to Wichita helped Gilmore understand the meaning of a true college experience. 
"When I came to WSU, I got to actually feel like I was at college," Gilmore said
Gilmore said she attributes it to WSU's diversity, not only in race but simply having people who like different things.
"I've got to be around a lot of different people who are just different than me and I love it," Gilmore said. 
Gilmore said that the College of Applied Studies brought her together with six of her classmates and now they work together. She is proud of what each of her friends have done individually and together. 
Cassidy Steward, who works with Gilmore, is part of her cohort and is also a WSU senior graduating with a early childhood unified degree.
"She is one of the most determined and personable people I've ever met," Steward said. 
Steward said that Gilmore is very easy to talk to and gets her work done. 
"If you need 100% she gives 120%, no matter what it is and she's one of the best people ever," Steward said. 
During Gilmore's time in college, she had a "hustle" mentality, and she wishes she could have enjoyed the simpler things in college like taking part in an organization.
Not being part of an organization gave Gilmore time to focus on her three pets, playing volleyball and working on puzzles.
"I can finish a 1,000 piece puzzle in 13 hours, which I consider to be my talent," Gilmore said.
Gilmore also coaches a high school travel volleyball team that is very intense. 
Having changed her major, Gilmore said students should not feel scared of failure.
"I think it's okay to not know what you want to do. Try everything, because if you don't know what you want to do, how are you going to find out?" Gilmore said. 
View Comments (1)
About the Contributors
Melanie Rivera-Cortez, Reporter
Melanie Rivera-Cortez is a second-year reporter for The Sunflower.
Jordan Plowman, Photographer
Jordan Plowman is a photographer for The Sunflower.