Speech-pathology major joins improv group to help kids learn English
Katie Stanford decided to travel from  California to the midwest to play softball at Newman University, with the hopes of becoming a speech pathologist someday. 
However, those plans changed a little bit after discovering that Newman didn't offer her major. Despite enjoying her time as a collegiate softball player, Stanford transferred her junior year to WSU to continue studying speech pathology. 
Later this month, Stanford will graduate with a bachelors in communication sciences and disorders with a minor is ASL. After graduation, she will begin graduate school at WSU to earn a masters degree in speech pathology. 
Stanford decided to major in speech pathology after one of her family members had a stroke and was diagnosed with aphasia. Aphasia is a language disorder that causes someone to have difficulty expressing themselves and with comprehension due to damage in the brain. 
"I want to be able to help others who have gone through a similar experience because I know not only how it affects the person diagnosed, but also how it affects their loved ones," Stanford said. 
Stanford uses a personal hobby of improv to practice communication with others for her future career. Currently, she and a local improv group visit an elementary school in Wichita frequently to teach kids English vocabulary whose second language is English.
"I know I'm helping others and I'm sure that the transition they're making into learning English must be very difficult for them, so if I can be a light in their day while also helping them learn, it's a win," Stanford said. "I also really enjoy talking to them and learning about their cultures and how it differs from ours."
Kelly McGarry, Stanford's best friend from high school who she met in theater, said that she is a good leader and a very patient and intuitive person.  McGarry said she also has a game plan for everything and is prepared to take on any challenge.
"I can see her being very good at reading her future patients and intuiting the best approach to communicating with them," McGarry said.
Stanford's college journey came with some difficulties after transferring to WSU. Stanford transferred around the time the COVID-19 pandemic hit and had to take classes fully online like many other college students. She credits her professors for helping her make the transition to her senior year seamless. 
"Dr. Marble-Flint can always put a smile on your face during class, Dr. Musaji has a great sense of humor and Dr. O'Bryan is super knowledgeable and makes subjects very interesting for the students," Stanford said. 
Stanford hopes to not only have a career in speech pathology but help others understand why it's an important job. She said there is a high need for speech pathology for individuals with autism spectrum disorder and the older adult population. 
"Speech-language pathology is necessary in today's society now more than ever," Stanford said. "We are getting better and better with our screening for identifying individuals with autism spectrum disorder. Since we are identifying more people with this, we will need more speech therapists to support them with their communication needs."
View Comments(1)
About the Writer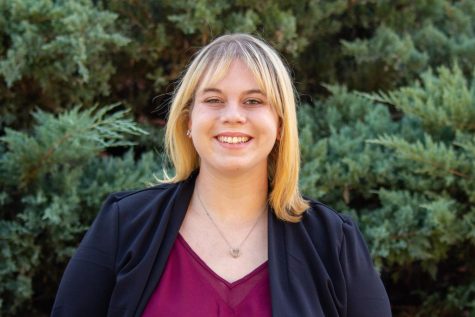 Emmie Boese, Reporter






Emmie Boese is starting her fourth year on The Sunflower's staff. Boese previously served as sports editor and opinion editor. Boese is majoring...