Concluding NCAA, Bryan and Taylor receive First Team All-American honors
Two seniors came into the NCAA Outdoor Championships and both came out victorious. Michael Bryan and Taran Taylor competed on Wednesday at Hayward Field to earn First Team All-American honors.
Bryan participated in track and field for about five years. When he came to WSU as a freshman, he said he was not a great athlete.
"My experience at WSU is a long one," Bryan said. "I kept developing and getting a lot better."
The Shocker said he used his redshirt season to his advantage.
"Redshirt year is a blessing because it's an opportunity to keep moving forward," Bryan said.
In the first round of the hammer throw, Bryan took an early lead and broke his school record with a personal-best throw of 71.56m. Bryan said he was satisfied with his throw but also wanted to break the ice for his competitors.
"On that first round, everyone was quiet," Bryan said. "Everyone was craving it. I kept getting louder and took all of the attention, allowing the other guys to take up their confidence."
The 71.56m throw carried him to the end after Bryan fouled his next two attempts. He finished the day fifth to earn First Team All-America honors.
Not only did Bryan claim a new school record, but he became the first in Shocker history to become a three-time All-American – with previous titles earned in the 2021 hammer and 2022 indoor weight throw.
All top-nine finishes in the NCAA Outdoor Championships were within five feet of each other making the results anyone's game.
Taylor came into the NCAA confident and said he was thankful for the positive experience that his coaches provided him and Bryan with.
"To finally get here and to get into the top nine . . . it's like all that work came together," Taylor said.
Taylor made history on his final throw of the javelin competition with a 78.76 throw, breaking two-time All-American Aaton True's 2018 school record, the throw is now the highest NCAA javelin finish in Shocker history.
Taylor moved from sixth to fourth and finished the day with eighth place which clinched his first-ever First Team All-America honors.
Marc Minichellow of the University of Pennsylvania threw only 2.41m further than Taylor and claimed first place.
Both Taylor and Bryan moved up seven spots in the seed. Originally, Taylor was set 15th and Bryan 12th.
The seniors both qualify for the USA Outdoor Track Competition. Thus far, only Bryan has announced his plans to make an appearance. To qualify, a competitor must finish the NCAA with a top 10 finish.
"I have something special set in mind for ending my last practice at Wichita State," Bryan said. "I didn't do (the special thing) before the NCAA. I didn't want to go into the meet like I was ending the season. I wanted to keep going and act like I was going to the USA."
Coach John Hetzendorf said the two seniors worked hard and long to break the school records and become First Team All-Americans.
"Very proud of the men today," Hetzendorf said. "They made it a very special day."
Leave a Comment
About the Writer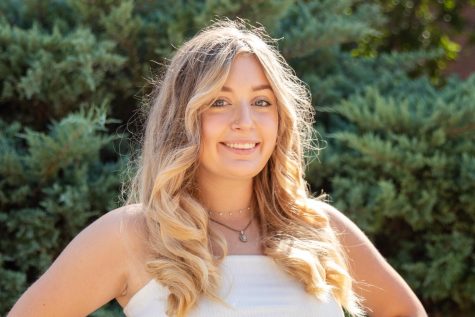 Rachel Rudisill, Former Photo Editor
Rachel Rudisill was the photo editor for The Sunflower in Fall 2022. Rudisill majored in journalism and was a staff photographer before becoming photo...