Fans can expect a new energy at game days
The athletics fan engagement team added two emcees as part of their plan to bring in new game day elements to Charles Koch Arena. 
Prior to the start of the 2022-23 season, Shocker athletics announced Jillian Carroll and Fayola Oyatayo will be Wichita State basketball's emcees. 
Carroll was a Kansas City Chiefs cheerleader for six seasons and a Chiefs sideline reporter for two years before making her way down to Wichita. 
Carroll has been the emcee for the Wichita Wind Surge for two years. She said she is excited to start at Wichita State. 
"I bring a little bit of experience working in different leagues at different levels," Carroll said. 
She said that she is able to create a better experience for the fans as an emcee. 
"I genuinely just love interacting with people and fans of all ages," Carroll said. 
As a former athlete, she said she is excited to help fans understand the game. Carroll played soccer at Northern Iowa and understands what is required from the athletes when it is time to compete. 
"I can even relate to these players," Carroll said. 
Carroll said she had a chance to speak with the team.  
"I learned a lot about the direction that they're going and just their vision for kind of a new era of WSU basketball," Carroll said.
 Oyatayo – or as he is known throughout town, "Mr. Wichita" – is a media personality and has local collaborations and has partnered with nationwide and local brands. Although he is known as "Mr. Wichita," he said that when he first got to Wichita nobody knew who he was.
"I remember being in Wichita three or four years ago saying, 'Man, I want to get connected to the city,'" Oyatayo said.
Oyatayo has interviewed celebrities, musicians, athletes and politicians. 
"For me, it's personal," Oyatayo said. "It's really just like, I love doing this from the core." 
Oyatayo is the emcee at KU football games. He said that emceeing is very personal to him because he wants to make sure people have a good time at games. 
"I think for me, whether it's 10,000 people, whether it's 100 people, that same energy is going (to) kind of be there," Oyatayo said. 
During his time at Sterling College, Oyatayo played basketball. He said that his experience on the court will help him emcee because he understands the kind of atmosphere that is needed to keep going. 
Both Carroll and Oyatayo will take turns emceeing during the season. They worked together during Shocker Madness and will both trade off emceeing duties at games. 
There will be an emcee for all men's basketball games but not for all women's basketball. 
"The main focus is going to be the men, but you will see emcees at some of the women's games," Carroll said. 
Leave a Comment
About the Writer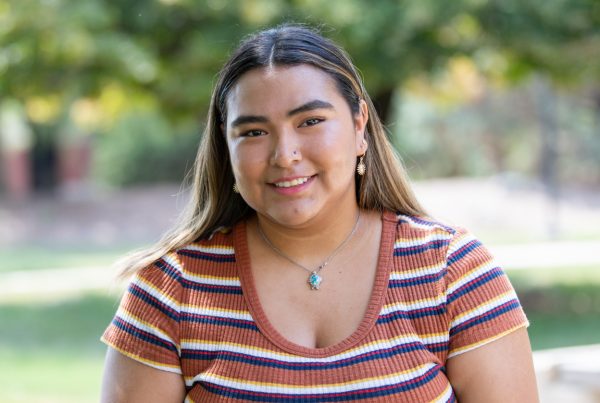 Melanie Rivera-Cortez, Sports Editor














Melanie Rivera-Cortez is the sports editor for The Sunflower. She is a senior pursuing a degree in journalism. Rivera-Cortez...