'Bittersweet:' Fine Arts Dean to retire after 19 years, proud of the college's growth
After 19 years at Wichita State, Fine Arts Dean Rodney Miller has some advice for whoever will fill the role next. 
"If you see a turtle on a fence post, you know it didn't get there by itself," Miller said. 
"What it means is that whenever you see a specific situation, you know, it doesn't exist in a vacuum and there are reasons why certain things are organized the way they are or done the way they are."
This semester will be Miller's last year as fine arts dean. He announced his retirement last semester. His love for fine arts shines through his role as dean.
"Science answers the question what, but the arts answer the question why," Miller said. "I think life without the arts is simply a life that's very devoid."
Both Miller and his wife sang professionally before starting a career in higher education.
"We spent a year engaged and the first couple years of marriage living hours from each other," Miller said. "So we decided, eventually, family over fame. So we came back and I took a position at Illinois State University."
Miller became the director of the vocal area and then was appointed director of vocal studies at New York University. Miller accepted his first deanship in 1998 in Nebraska. 
"Then the opportunity here at Wichita State opened up, and I applied and was thrilled when they offered me the job," Miller said. "I've long known about the quality of the arts and the arts program and the people behind them here at Wichita State."
Miller said he is especially proud of the growth of the fine arts college, which has topped 1,000 majors and has added a whole new school. 
"When we got here, we had three schools — School of Music, School of Performing … and the School of Art, Design and Creative Industries," he said. "And now, as of about six years ago, we have a fourth school — the school of digital arts."
Miller said retiring is "bittersweet," but he is looking forward to attending WSU events as a civilian, not as dean. He said he hopes the next dean will bring a "new perspective" to the university. 
"I'm hoping that they will be someone who embraces what we hold dear, but then can give us the vision and energy to lead us in some new directions that we hadn't thought about yet," he said.
Leave a Comment
About the Writer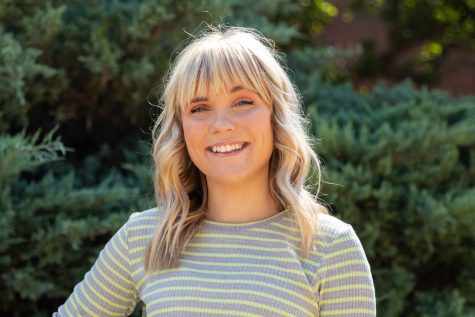 Lindsay Smith, Former Editor-in-Chief, Newsletter Editor
Lindsay Smith is the former editor-in-chief and newsletter editor for The Sunflower. Smith was a journalism major at Wichita State with a minor in creative...