'Don't waste my time:' Journalist Roland Martin refocuses MLK day discussion on change
On Martin Luther King, Jr. Day, journalist Roland Martin visited Wichita to ask a crowd of people celebrating MLK "why are you here?"
"What happens is we have these events every single year," Martin said. "They give quotes to Dr. King, and they talk about how wonderful he is and how great he is, and how he did so much, yet then, I have to ask the question, what were those very people doing every single day when it came to the very agenda that he was advocating?"
The MLK day celebration, an annual event put on by the Greater Wichita Ministerial League, was hosted at the WSU Metroplex. Different choir and dance groups played and spiritual figures from around the community spoke to the crowd. Public figures like Mayor Brandon Whipple and Governor Laura Kelly also attended and spoke at the event. Whipple and Kelly both spoke of the progress made under their administrations.
"You have my word that I will continue to support policies and programs that address racism and advance equality for all," Kelly said. "That includes protecting voting rights, expanding broadband access in communities of color, providing law enforcement the resources it needs to respond to behavioral health calls, and to expand Medicaid."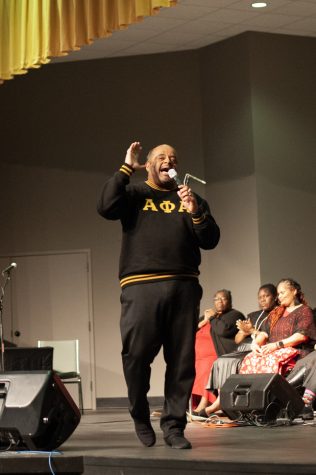 Martin's speech came after Kelly's, and in his, he questioned how Kelly and the state government plan to change police departments, as many departments spend exorbitant amounts on police settlements each year.
"No disrespect to the governor, but please don't stand on MLK Day and talk about what you're doing for people of color, and then you throw in there the more money for law enforcement, because the question I then ask is how are you changing law enforcement," Martin said.
Martin's speech mainly focused on issues facing Black Americans today and political items, like the Biden-Harris Administration Student Debt Relief Plan, which has been met with considerable backlash.
"A Black college student has … more debt than the average white college student, which is why you have Republican attorney generals who are fighting President Biden's student loan debt relief program," Martin said. "They don't want to ask why the Black students have more debt than the white students or what situation created that, but you have a remedy, and now you want to fight the remedy."
Martin said that even though not everyone works to advance the agenda of King, many continue to celebrate MLK Day.
"Save me all your (King) quotes in your posts, if your agenda in your daily job does not line up with MLK's agenda," Martin said. "Don't waste my time."
Throughout his speech, Martin continuously tied issues that Black Americans face at a more dramatic rate back to money. During his life, King often mentioned the power of money and the influence it has on America.
"We keep trying to change the system on the venture capital level, no, you change it (with) where they get the money from," Martin said. "We are not going to be able to … 'reach that King dream,' if we don't confront money; if we don't confront the systems that are in place to prevent us from doing so." 
Before his mic-drop and walk off the stage to a crowd of applause, Martin left the building with a few thoughts.
"If you come here next year, and you look back and you did nothing, then you are the actual problem," Martin said. "The only way this thing changes is when people stand up and get involved and do something."
A video of the worship celebration has yet to be released but can be expected to be on The Greater Wichita Ministerial League's Facebook.
Leave a Comment
About the Contributor
Mia Hennen, News/Managing Editor
Mia Hennen is the News and Managing Editor for The Sunflower. Hennen is a sophomore at Wichita State majoring in English and minoring in communications,...