Men's tennis begins spring season in Arizona
Men's tennis opened their spring season on Jan. 13 with a win in a match at Grand Canyon University in Phoenix, Arizona. This is only the third time the Shockers have faced GCU, the first meeting happening in 1985 and the most recent meeting in 2018. The Shockers won both of these matches.
They beat Grand Canyon 6-1 on Friday with dominant singles play all around. Sophomore Kristof Minarik (6-2; 6-2), redshirt junior Alex Richards (6-3; 6-2), freshman Alejandro Jacome (6-3; 6-3) and freshman Richey King (6-4; 7-5) won their matches in straight sets. 
Minarik and Richards dropped the team's first doubles match to David Wekesa and Jonathan Da Silva (4-6) to give GCU their lone win of the night. The teams of senior Misha Kvantaliani and King and Petreni and Jacome both came away with the win.
Jacome and Petreni were signed by the team during winter break. Jacome spent the past season playing at Mercer Community College in West Windsor Township, New Jersey and Petreni is from Poggibonsi, Italy.
This is head coach Darragh Glavin's first win at Wichita State after he joined the Shockers in June 2022. He served as assistant coach at the University of Miami and the University of Delaware. Glavin was also a volunteer coach at Princeton University.
During the fall season, Wichita State sent Minarik to the Intercollegiate Tennis Association (ITA) National Tournament and made it to the round of 16 where he lost to Texas' Eliot Spizzirri (6-2, 6-1). Minarik qualified for the tournament after making it to the finals of the ITA Central Region Championships. He is the first Shocker to earn a spot at the ITA National Fall Championships since Jeremy Grubi in 1984.
The Shockers faced three more teams during their road trip to Arizona: Illinois, Arizona State and Bryant. They lost to Illinois (6-1) and Arizona State (4-1) but secured the win against Bryant (5-0). Both of the team's wins against Illinois and Arizona State were captured in singles play by Jacome.
The team will travel to Fayetteville, Ark., to take on the University of Arkansas Razorbacks on Jan. 20. The Razorbacks are currently 2-0 under new head coach Jay Udwadia after wins against San Diego State University (4-3) and University of California – San Diego (4-1).
Leave a Comment
About the Writer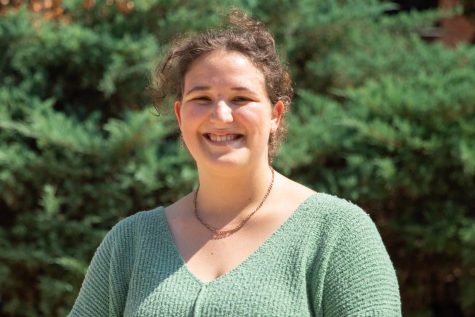 Trinity Ramm, Managing Editor
Trinity Ramm is the managing editor and former sports editor for The Sunflower. This is her second year on staff. Ramm is a senior English Lit major and...