Final report out: Sixteen programs at Wichita State marked as 'review and monitor'
In a report from a consulting firm hired by the Kansas Board of Regents, more than 80% of degree programs at Wichita State have been flagged as "optimize" or "review and monitor," meaning these degree programs fail to show program growth, positive headcount in degrees, and/or positive degree production. Sixteen undergraduate degree programs made the report's "review and monitor" list — the lowest level of program health, according to the report.
Academic Portfolio And Workload Review
Nine months ago, KBOR hired the educational consulting firm rpk Group to dig into the state's six public universities, governed by the Regents. The universities that fall under KBOR's jurisdiction are Emporia State, Fort Hays State, Kansas State, Pittsburg State, University of Kansas and Wichita State.
According to KBOR's website, they brought on the consulting firm to make sure that the degrees offered at each of the six universities "align with Kansas goals for the State's higher education enterprise, meet student expectations for programs centered on student success and increasing their employability, and efficiently deliver faculty and staff resources across each institution, division, and department."
In the final report, released earlier this month, rpk detailed its findings and recommendations based on data from 2017-2021.
Recommendations:
– Adopt the Academic Portfolio Review framework as an annual assessment and modify the current program review process such that the framework is used to identify the programs that are needed for review as opposed to cycling each program through individually on an eight-year cycle.
– Measure teaching workload and activity using student credit hours produced by faculty full-time equivalent across the institutions recognizing the different teaching expectations each
institution should meet relative to their research mission.
The two recommendations can be read in their entirety here on page 3.
No action will be taken by the Regents until March 22 at the earliest, according to KBOR.
WSU's data
The report provided an overview of all six universities' data, but a separate spreadsheet shows the data specific to WSU. (When viewing the spreadsheet, only one category (optimize) shows up at first. This filter can be changed by clicking on "program health.")
A brief look at the data on all 109 of Wichita State's degree programs:
56%  of all WSU programs marked as "optimize"

27.5% of all WSU programs marked as "review and monitor"

16.5%  of all WSU programs marked as "maintain" (meaning the program is in good standing 

and should continue as is.)
Sixteen bachelor programs have been marked as "review and monitor." The degree programs span academic colleges and include computer engineering, international business, philosophy, history, mathematics, chemistry, physics, and music. A full list can be viewed here.
Of all 53 undergraduate degree programs at Wichita State:
52.8% are labeled as "optimize"

30.2% are labeled as "review and monitor"

17% are labeled as "maintain"
Of all graduate programs (master's and doctoral) programs at Wichita State:
58.9%  are labeled as "optimize"

25% are labeled as "review and monitor"

16.1% are labeled as "maintain"
Executive Vice President and Provost Shirley Lefever and other stakeholders at WSU worked with KBOR and rpk to provide data and feedback.
"I think that it's always a good thing to constantly look at your degree programs and make sure they continue to be relevant, make sure they're continuing to have healthy enrollment because that's an indication of relevance," Lefever said.
Faculty Senate response
Following the report, KBOR asked universities to provide feedback. At the Faculty Senate meeting on Feb. 23, President Susan Castro told members that the feedback form is open.
"They're looking for what we have to say," Castro said. "And we don't have a lot more direction than that at this point. We are trying to get a little bit more information from various Regents that people happen to know and (rpk representatives)."
Chase Billingham, at-large senator and associate professor in sociology, asked what change could be seen come KBOR's March 22 meeting.
"I'm personally expecting that it will be a very general change to how program review is conducted, so maybe more often, possibly different metrics, possibly different templates," Castro said. "I think that's the kind of decision that we'll be making, but I may be wrong."
Castro said that the Regents are interested in hearing different metrics used when evaluating the workload review.
"The Regents have expressed in my hearing several times that they are interested in considering metrics," Castro said. "This is an opportunity to tell them what metrics would be appropriate for, say service programs … If you're really heavily grant funded, but they didn't consider course releases for faculty – which they didn't – then everyone who does a lot of research might look like they're in the review and monitor category, but they shouldn't be."
The feedback form can be viewed and filled out here. While the form is intended for faculty, staff and administration, outside feedback has not been restricted.
At this time, KBOR has suspended their program review for two years while they consider changes to processes, according to Castro. 
"WSU will continue to conduct internal program reviews on the same schedule, every four years, and we will still proceed with the existing schedule for accreditations," Castro said.
Leave a Comment
About the Writer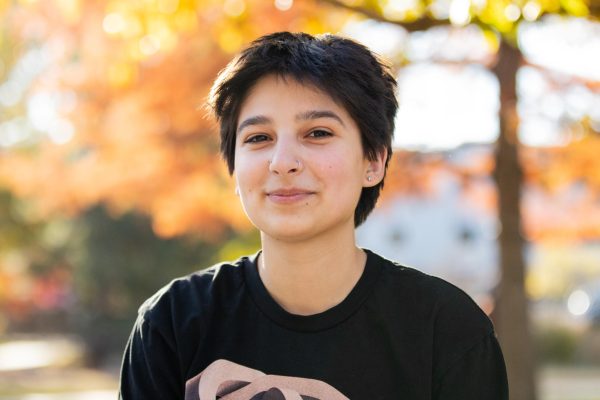 Mia Hennen, Editor in Chief
Mia Hennen is the current editor in chief for The Sunflower. Before becoming editor, Hennen was the news/managing editor. They are a junior at Wichita...