'Go out of your comfort zone:' Freshers Party gathers international students together
For students starting college in a new country, it can be disorientating. To help with the transition, the Indian Student Association (ISA) hosts its Freshers Party for new students each semester.
This spring, the event gathered Indian students on Jan. 27, complete with guest speakers offering advice and games to spur new connections. 
"We want to educate them on what to do, what is a credit hour, how to behave in the classroom," said Perlekar Tamtam, ISA faculty advisor.
To kick off the event, two faculty members shared their perspectives as former international students. Hailing from Egypt in 1979, M. Edwin Sawan strongly encouraged students to embrace discomfort.
"Get involved with the community," Sawan, now the interim director in the School of Computing, said. "Go out of your comfort zone, make new friends, from whichever and from other countries."
Students had the chance to act on Sawan's advice: Attendees could volunteer to go onstage and participate in a game, introducing themselves and answering various prompts.
Those with the most interesting responses won the titles of "Mr. and Ms. Fresher."
"It's all about a personality event where they will undergo a three round of questions," Sneha Tomy, general secretary of ISA, said. "People with interesting answers will be given (a) crown."
Both game participants and audience members alike enjoyed themselves, applauding and cheering at jokes and displays of cultural pride.
Keerthi Venugopal Rakhee, newly enrolled in the master's program for industrial engineering, found herself on stage. She said she was eager to attend the Freshers Party and learn more about ISA.
"I'm trying to push myself to the maximum," Venugopal Rakhee said. "I'm trying to connect with new people, trying to build new relationships."
In addition to hosting presentations and activities, ISA provided students with goods donated by the community. Jackets, blankets, appliances, and even old laptops are featured among the gifts.
Tomy was grateful that the Fresher Party could support the new students.
"We are glad that we had a small community sign up," Tomy said. "It's a great way to spread love, kindness and care to the new students."
View Comments(1)
About the Writer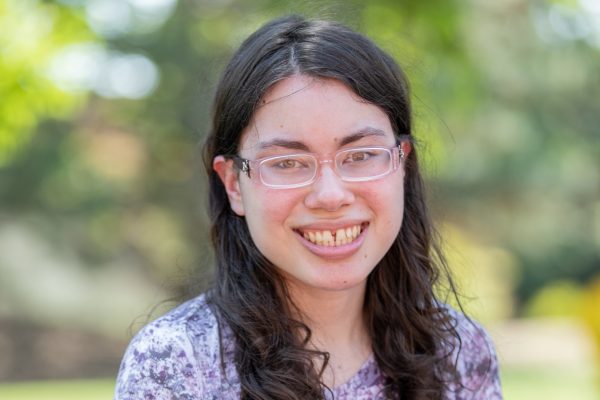 Courtney Brown, Investigative News Editor
Courtney Brown is the investigative news editor for The Sunflower. Brown previously worked as a reporter and assistant news editor.