Desire to improve student retention spurs discussion within university
Faculty and staff filled Beggs Ballroom to discuss student retention rates at a university town hall on Tuesday, Feb. 7. 
According to Wichita State, underserved students graduate at lower rates than non-underserved students. At WSU, underserved students make up 50% of the body. 
Underserved students come from low-income backgrounds, are first-generation, and/or identify as Black or LatinX. 
In 5 years, university administration says that it will narrow the gap between the two groups. This goal follows the creation of a new initiative, the Student Success and Persistence (SSP) initiative. 
"We're at a point in time where we must put an emphasis on ensuring all of our students succeed by being intentional about the support we provide our students throughout their academic journeys," Provost Shirley Lefever said.
In 2020, the fall retention rate was 71.9%, meaning that percentage returned to the university in 2021. Fall enrollment for 2020 was 15,500 students, meaning only 10,989 of those students came back the next year.
"We've gotten really good at encouraging prospective students to come to Wichita State, but that's not where it stops," President Rick Muma said. "We must support students in their academic career through graduation."
Last year, the Kansas Board of Regents, the governing board for higher education in the state, tasked each of its institutions to work with Georgia State University's National Institute for Student Success (NISS) to look for room for improvement, regarding retention rates. 
This led to the university's goal to bridge the gap between underserved and non-underserved students and create SSI. Lefever also identified three approaches that faculty and staff will "embrace" to help achieve the university's goals.
Strategies as described by WSU:
Foster a culture of empowerment, leadership and ownership   

Take an equity-first mindset and student-centered approach that will lead to increased graduation rates

Increase strategic education and promotion of financial wellness
Following Lefever and Muma's speech, Misty Bruckner, Public Policy and Management Center director, facilitated a faculty and staff-led discussion to come up with ideas to make sure students' needs were met.
The discussion focused on various issues that an array of students face, like income instability, adult learning, unhelpful faculty/staff, lack of representation, etc. 
"It only takes one faculty member, who has a sort of old school attitude that only some people are college material … rather than in helping the students get better," Faculty Senate President Susan Castro said. "Only one faculty member can completely ruin the college experience for a student."
Anna Porcaro, executive director of online Learning and adult learning, said that faculty and staff need to learn to meet students where they are, instead of having unrealistic, similar expectations for everyone.
"Instead of expecting them to be at a particular place in their lives or past experience or whatever, we need to help them to scaffold up to where they can be, where they really have potential," Porcaro said. "That's a big cultural change that needs to happen."
LAS Dean Andrew Hippisley mentioned that students perceive faculty as unapproachable.
A recommendation was made to find ways to hold faculty accountable for engaging with students.
"What do we do about that? And we do talk a lot about … teaching as many students as possible – that can get to the point where we're seeing these (students) as numbers, not people," Hippisley said.
View Comments(1)
About the Contributor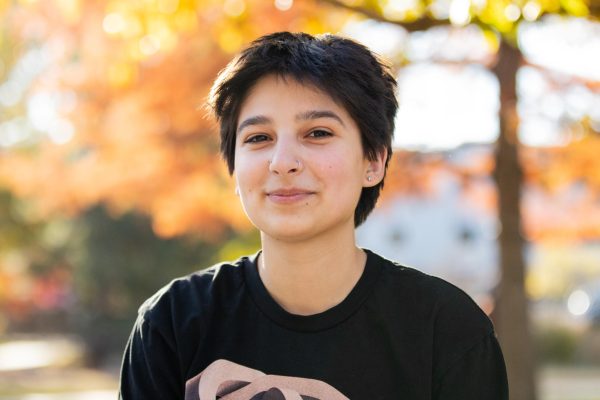 Mia Hennen, Editor in Chief
Mia Hennen is the current editor in chief for The Sunflower. Before becoming editor, Hennen was the news/managing editor. They are a junior at Wichita...