Softball begins season in Texas with near sweep
Softball opened their season on the road at the Texas State Tournament in San Marcos on Feb. 10-12. The Shockers went 4-1 over the weekend.
Feb. 10 versus Villanova
Their first game was against Villanova, the reigning Big East champions. Wichita State beat Villanova 12-1 in a run-rule. Junior right-handed pitcher Lauren Howell made her first start and was one out away from a shutout. Both senior infielder Sydney McKinney and junior outfielder Lauren Lucas went 4-4 at the plate. McKinney scored three runs and Lucas hit a homerun and two doubles. Villanova scored their lone run at the bottom of the fifth inning after an error and RBI single from senior catcher Ally Jones.
Feb. 10 versus Texas State
Texas State brings back the Sun Belt Pitcher of the Year, junior right-handed pitcher Jessica Mullins. The Shockers took the full seven innings to win 3-2. Lucas continued her hot streak from game one of the tournament. She recorded one run on two hits with four at-bats. Senior infielder Zoe Jones had a two-run home run in the first inning. Sophomore left-handed pitcher Alison Cooper pitched all seven innings during which she allowed nine hits, two runs and had three strikeouts. 
Feb. 11 versus Kent State
Wichita State shutout Kent State 7-0. McKinney went 4-4 from the plate for the second time this weekend. She had two doubles and three runs. Lucas went 2-3 and drove in two runs on two doubles. Freshman pitcher Alex Aguilar threw a shutout in her first collegiate game with two strikeouts and allowed three hits and two walks. 
Feb. 11 versus Villanova
McKinney continued her momentum from the earlier game going 3-3 with a double and two runs as Wichita State wins their second matchup against Villanova 6-2. Cooper improves to 2-0, throwing four strikeouts across all seven innings. Junior outfielder Addison Barnard hit her first home run of the season to put the Shockers up 4-0. The team put the game away in the bottom of the sixth after a Jones home run and a final run from a wild pitch.
Feb. 12 versus Texas State
The Shockers lost their first game of the season in their second matchup with Texas State, 7-4. The Bobcats scored all seven of their runs in the third inning, sparked by a wild throw by Howell to first base. The team scored in the top of the third after Lucas brought them home with her sixth double of the weekend.
The softball team will continue their West Coast trip in San Diego. They will play San Diego State on Feb. 16 then they will play in the Torero Classic over the weekend hosted by San Diego State.
Leave a Comment
About the Writer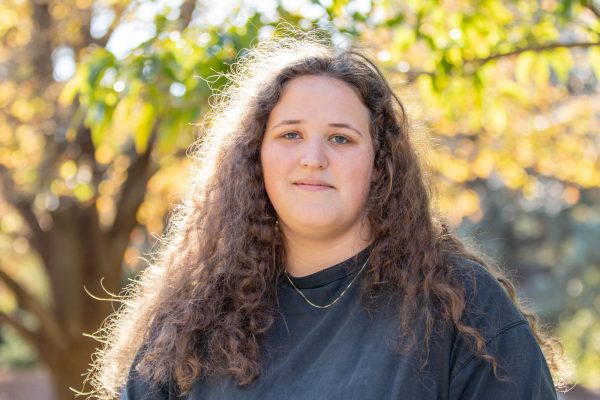 Trinity Ramm, Managing Editor
Trinity Ramm is the managing editor and former sports editor for The Sunflower. This is her second year on staff. Ramm is a senior English Lit major and...