'Ambiance in the air': Bobby Watson performs at WSU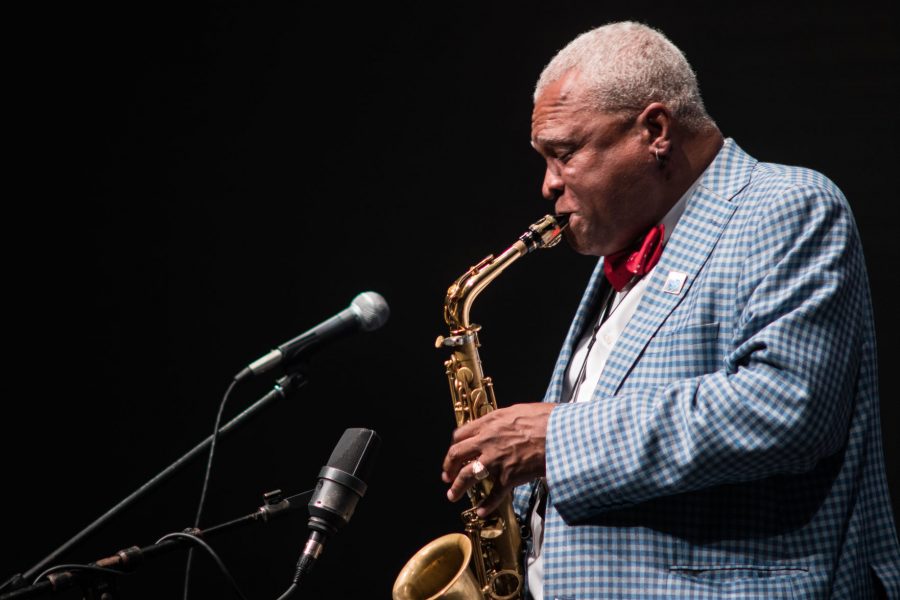 Taking the stage with the Wichita State Jazz Band, alto saxophonist Bobby Watson jumped right into his first piece — only to promptly stop.
"I forgot to tell a story," Watson said before launching into the background of a piece from his 2013 album "The Gates BBQ Suite."
In Watson's words, the piece showcases him crying, an idea realized as the music began.
A storyteller in a non-traditional sense, Watson uses his music to tell his tales.
Watson performed Thursday with WSU's Jazz Band at the Miller Concert Hall inside the Duerksen Fine Arts Center for the first concert of the fall, celebrating the return of the Joan Miro mosaic. About 150 people attended.
Before Watson came out, the WSU Jazz Band performed for about 30 minutes. Watson himself played with the band for about an hour, performing various pieces from his 30-year-plus discography.
Watson describes his musical style as "melodic with harmonic underpinnings." His favorite piece of the night was "Love Remains," dedicated to new friends he'd made in Wichita.
Watson said he was impressed with the WSU's jazz band's performance, who spent three weeks preparing.
"They did a wonderful job of playing my music and their music," Watson said. "I understand it's a young band this year, so they've got a lot of potential."
Bobby Kitchen, a first-year graduate student, played a solo during the final piece of the night. He was amazed to have the opportunity to perform with Watson.
"Bobby was tearing it up out there," Kitchen said. "It's surreal. He's one of the absolute greatest of all time. He is literally one of the founders of what we call jazz today. He invented, basically, what modern jazz is: harmonically more complex, faster; a lot more awesome."
Colin Wright, trombone performance major and first-time college jazz ensemble performer, was equally excited to perform with Watson.
"It was an unreal experience," Wright said. "It was really cool to have my first concert be with such a legend. He's just so charismatic, and when he walks in the room everyone notices. The way he plays just catches the entire audience."
The band and Watson's performance equally impressed students in attendance.
Levi Sutton, a Friends University student taking a semester off, called Watson "a true artist."
"It sounded like he was painting brushstrokes with his saxophone," Sutton said.
His friend Sage Judd, a Friends University music major, described the performance as "dope."
Assistant professor and conductor Geoffrey Deibel said he was happy with his students' performance and the turnout.
"We had a couple scary moments, but other than that I thought they played really well for only having three weeks to rehearse," Deibel said.
Deibel said it was not hard to get Watson to perform at WSU, given the music community's tight-knit relationship.
"You know everybody (in the music community), or you know somebody that knows the person you want to get, and you use those connections to get in touch with them," Deibel said.
As for jazz's prevalence and relevancy today, Watson said "it's coming back."
"Jazz gives you a certain maturity when you listen to it," Watson said. "It's the kind of music where you're listening and you're thinking, so people aren't going to act too stupid listening to jazz. It puts an ambiance in the air that's very thought provoking."
About the Writer
Andrew Linnabary, Digital Managing Editor
Andrew Linnabary is the 2018-2019 Digital Managing Editor of The Sunflower.

He is a senior studying journalism and minoring in English. Linnabary is...