Bill passed limiting transgender participation in sports
After Gov. Laura Kelly previously vetoed two bills that would have limited transgender women and girls from playing high school and college sports, the Kansas House of Representatives passed the Fairness in Women's Sports Act on Feb. 23 in a 82-40 vote.
The bill will now move on to the Kansas Senate and then to Kelly to be signed into law or vetoed for the third year in a row.
The bill joins 40 others across the country that have been introduced since the 2023 state legislative sessions began.
Allison Waldt, a first-year anthropology and history major, said she believes that more research should be done before bills such as this one are passed.
"I think the legitimacy of trans women's so-called 'unfair advantage' needs to be researched further before a bill like this," Waldt said. "The politicization of sports takes away from the fun and fair competition more than personal identity ever could."
The bill would require students to participate on sports teams based on their biological sex, not their gender identity. It would also have schools define their sports teams as males, men or boys and females, women or girls, or co-ed or mixed. 
The current bill explicitly defines the terms "biological sex," "postsecondary educational institution," "private postsecondary education institution," "public educational entity," "public school" and "school."
It defines biological sex as "the biological indication of male and female in the context of reproductive potential or capacity, such as sex chromosomes, naturally occuring sex hormones, gonads and nonambiguous internal and external genitalia present at birth, without regard to an individual's psychological, chosen or subjective experience of gender."
District 11 Rep. Barbara Wasinger, a Republican, said that she recognizes that intersex people exist. 
"We recognize that there are a very small number of individuals born with a medically verifiable disorder of sexual development," Wasinger said in an email to The Sunflower.
The widely accepted number for the global intersex population is anywhere from 1-2%, which equates to 78-156 million people. For context, this is roughly equivalent to the number of people with red hair worldwide.
The term "disorder of sexual development" was coined in 2006 as a way to medically identify those born with variations in sex organs and hormones. Some intersex individuals have found the term emotionally damaging and now, the more widely accepted labeling typically lies with the individual.
Wasinger said that intersex people are already protected under the Americans with Disabilities Act.
"Meaning that schools throughout Kansas already have a legal obligation to provide accommodations to such children," Wasinger said. "Nothing in HB 2238 ("Fairness in Women's Sports Act") would (or could) undermine the school's obligations to such students under the Americans with Disabilities Act."
On the collegiate level, the bill states that, if passed, "the state board of regents and the governing body" for each college and university create rules to implement the terms of the bill.
Aubany Russell, a second-year mechanical engineering major and underserved senator on SGA, has personal experience playing basketball with a transgender woman.
"Personally, I don't believe it would matter," Russell said. "If anything it would create an environment that encourages the competitive and cohesive nature that playing a sport requires." 
The Kansas Board of Regents would be responsible for enforcing the bill in the 32 public institutions under their jurisdiction.
Additional materials for the bill outlined concern over how the bill's passing would clash with any NCAA guidance or how it would affect the state's ability to host any NCAA events, such as March Madness.
Current NCAA guidance stipulates that transgender student athletes are allowed to play on the team that aligns with their gender identity. The NCAA requires two tests throughout an athlete's season and a testosterone test four weeks before championship selections.
When asked via email to comment on the bill's proposal, Wichita State Athletics declined to discuss, saying they have "been following the proposed legislation and shall adhere to any requirement or restrictions imposed by law."
Contact your representatives:
State Senator
Oletha Faust-Goudeau
785-296-7387
[email protected]
Senator
Roger Marshall
(202) 224-4774
www.marshall.senate.gov
Jerry Moran
(202) 224-6521
www.moran.senate.gov
State House Representative
K.C. Ohaebosim
785-296-7684
[email protected]
Federal House Representative
Ron Estes
(202) 225-6216
www.estes.house.gov
Maleah Evans contributed to reporting.
Leave a Comment
About the Writer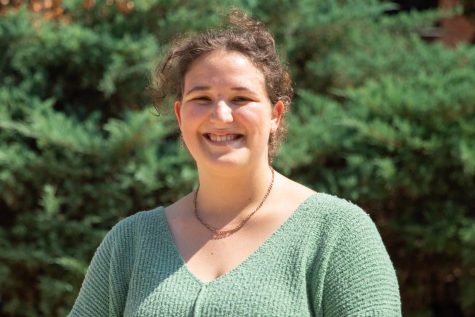 Trinity Ramm, Managing Editor
Trinity Ramm is the managing editor and former sports editor for The Sunflower. This is her second year on staff. Ramm is a senior English Lit major and...