RSC Starbucks works on composting, sustainability efforts
If you've been to the Starbucks in the Rhatigan Student Center this week, you might have noticed a new addition at the end of the bar.
In honor of Earth Month, the RSC Starbucks is working with Chartwells and Nudge Compost to help combat food waste by putting out a compost bin for unfinished food and drinks.
Kelsey Schmitt, the Starbucks location supervisor, said that this is a passion project for her and for others in Dining Services.
"Starbucks usually focuses on sustainability during April for Earth Month," Schmitt said. "(Chartwells) have their own waste initiative called Waste Not. We just combined ideas."
Dining Services began partnering with Nudge Compost, a local waste management service, in 2021. The dining hall in Shocker Hall produces the largest amount of composting material that Nudge handles from their partners.
The collected compost is used on campus by certain science departments and green groups.
"When you go … put your plates up (on the dish rack), they scrape off all the compostable items and put it in those Waste Not bins," Schmit said. "Then they measure the Waste Not bins by weight. We report (those numbers) to (Chartwells)."
A sign on the buckets at Starbucks tells people what should go in the Waste Not bin and what should go in the recycling bin. 
Things like cups and food sleeves go in the recycling bin. If your food sleeve has food stuck on it or an excessive amount of grease, it should go in the regular trash.
In order to recycle the single-use plastic cups that Starbucks uses, you should rinse them out before putting them in the recycling bin. If you're in between classes or can't wait to take it home to wash, you can use restroom sinks.
Another sustainable option is to bring your own cup. Starbucks will accept any reusable cup for hot and cold drinks and your cup will score you a 10 cent discount on any drink.
Leave a Comment
About the Writer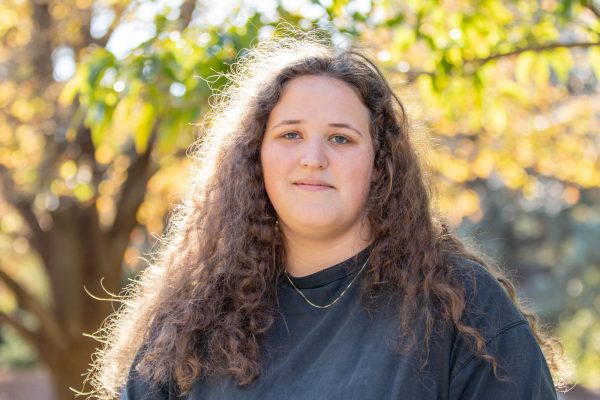 Trinity Ramm, Managing Editor
Trinity Ramm is the managing editor and former sports editor for The Sunflower. This is her second year on staff. Ramm is a senior English Lit major and...