'I'll never give this up': Anthropology professor discovers forgotten city, retires after 46 years
Donald Blakeslee didn't go to college with any intention of being an anthropologist – he hadn't even heard of the field.
Blakeslee, now a professor in the anthropology department, was studying astronomy in the 60s and picked up a book about anthropology one summer. 
"The reason I picked it up was because I read the back cover and went 'I don't know what any of these words mean,'" Blakeslee said.
After reading the book, he took an anthropology course. When he needed to earn money for the second course, he asked his professor about summer jobs in the field. 
"He gave me somebody to write to and I did, kind of weird, (I) wrote to somebody in Washington, D.C., and got an answer from Lincoln, Nebraska, saying 'you're hired for 12 weeks to do archaeology.'"
Blakeslee said at the end of that summer, he had a long conversation with himself. 
"In astronomy back then, the way you got your data was you stay up all night alone, in (an) unheated dome, to take measurements," Blakeslee said. "Archaeology, you camp out your traipse around the countryside, you find stuff, you kill rattlesnakes, all that kind of stuff."
He said he never went home again, aside from visits. He transferred to the University of Nebraska and got his master's in anthropology, before going to the University of Milwaukee for his doctorate. 
After receiving his doctorate, his job search led him to Wichita State in 1976, where he has taught for 46 years with plans to retire at the end of May.
Over the years, he's made different discoveries, including finding one of the major campsites of the Coronado expedition back in the '90s. 
Blakeslee said his favorite aspect of working in anthropology is the puzzles.
"You have to work in four dimensions because it's time, and then there's the materials,  and there's also a big grand puzzle and most of the pieces are gone," Blakeslee said. "You have to work really hard and … think of ways that you can compare things to try to figure out what was going on."
Since 2014, Blakeslee has worked on discovering a lost city near Ark City, Kansas, referred to as Etzanoa.
This study started when he ran across old Spanish documents re-translated by people from the University of Berkeley in California.
"What the eyewitnesses said was it was a town about five miles long with 20,000 people, which is more than Ark City has today," Blakeslee said. 
Blakeslee said the old translations were a lot harder to read and didn't give the observer the opportunity to see the bigger picture. 
"I thought, 'I wonder, I have a picture in my head of where these people were. Does it match the archaeological record?'" Blakeslee said. "And so I looked up the state records on archaeological sites of the right age and the answer was, 'yes.'"
He then went through interviews with soldiers, official reports and other documents. 
"I pulled (the documents) apart and put what everybody said about each event, and then I said, 'OK, if size fits, do the details fit? Every detail of the landscape and the instruments? Yep.'" 
Through his research, Blakeslee and his team of students discovered Etzanoa. 
"We got a lot of publicity on that and since then, while I'm still working there … I've also been interested in what society was it a part of," Blakeslee said.
Etzanoa is considered just one town inside Quivira.
"Quivira was essentially a country, occupied by the ancestors of today's Wichita tribe," Blakeslee said. "It's got subdivisions within it. There are at least three major groups, I might be onto a fourth one, I'm not sure yet."
Blakeslee said the total size of Quivira isn't tracked yet, but it was bigger than the Republic of Ireland in land area. He believes its population peaked at around 200,000.
The current borders of Quivira are the Kansas River in the north, the town of Larned, Kansas in the west, east into Missouri and south into Oklahoma.
"It was the most important native society in what's now the United States," Blakeslee said. "It was the biggest and most influential of all of them."
Peer Moore-Jansen, professor and chair of the anthropology department, said his reaction to the discovery was "how in the world is he going to pull this off?"
Moore-Jansen said there were limited funds, equipment and professors. 
"One of the things Don does (is) he travels all over the state all the time to talk to local communities about the archaeology of Kansas," Moore-Jansen. "People know him well and so he's been able to attract a lot of support, a lot of funding for this project."
Recently, after having a conversation with David Klamm from criminal justice, Blakeslee had a new idea about creating a piece of equipment that would be able to find recently buried human bodies. 
Blakeslee said he's going to talk to people at Wichita State, especially those in engineering, to try to put together a device that would not look for a body "but for the effects of a buried body on the soil."
"In theory, it will work," he said.
In most sciences, ideas are formed by conversations with people, Blakeslee said. 
"Talking to people in the halls and over a beer, and you find out things, and you get ideas," Blakeslee said. "The bigger the pool of people, the better."
Moore-Jansen said that he doesn't think people will have time to miss Blakeslee when he leaves the university— he'll still be working.
"He'll be active," Moore-Jansen said. "He'll be researching, he'll be writing … he has this on his mind, this is just a mission."
When asked if he plans to continue his research, his response was simple:
"I'll never give this up."
Leave a Comment
About the Contributor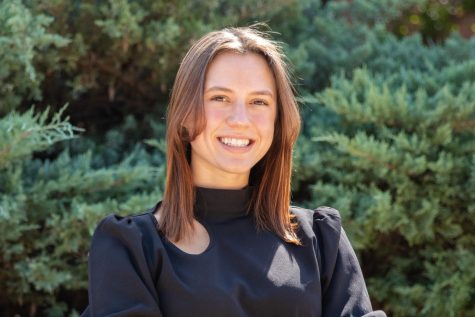 Jaycie Nelson, Former editor in chief
Jaycie Nelson was the Editor-in-Chief for The Sunflower during the 2022-2023 academic year. Before becoming editor, Nelson was opinion editor.