'Earth Emergency': Panelists talk climate change on Earth Day 
Feedback loops are a main cause of global warming, but despite the harm they cause it is possible for them to be reversed. 
"Earth Emergency," produced by Bonnie Waltch, discussed the impacts and feedback loops caused by the burning of fossil fuels. These perpetual feedback loops warm the planet, increasing each time a loop is completed.
In honor of Earth Day, the documentary film "Earth Emergency" was shown in the CAC theater on Saturday. 
Following the movie, a panel discussion took place with Waltch, geology student Josh Mallard, physics professor Holger Meyer, and Land Institute researcher Stan Cox. 
Most of the discussion centered around climate impacts of agriculture and what changes could be made to it to help to heal the planet. 
"Unfortunately, agriculture is probably going to be one of the last activities that can be weaned off of fossil fuels," Cox said. "We built the system for a century on the ready availability of fossil fuels." 
Educating people on the effects of climate change and burning of fossil fuels has taken the wayside, especially in states with larger oil industries Meyer argued. 
"The oil industry has a ridiculous amount of power," Waltch said. "I was just reading about how in Texas, it was people from the oil industry who cut out climate education in their science standards in schools." 
Audience member Robert Hamilton, president of the Kansas Association of Teachers of Science, asked how to give students hope when talking about climate change. 
"It's harder than you might think to go up to someone and say 'Hey we're destroying the environment, there's not a lot we can do'" Mallard said. "There is a lot that we can do, like with farming … There is a lot of bad, but in turn, there is a lot of good that can make people excited for the changes to come."
Meyer hopes younger generations can make an impact and start reversing climate change. He believes that the small protests over climate change are "the human tipping point." 
"A lot will become possible very quickly," Meyer said. "The bad part of it is we have to apparently wait until … a lot more harm will be done before we finally wake up." 
View Comments(1)
About the Contributors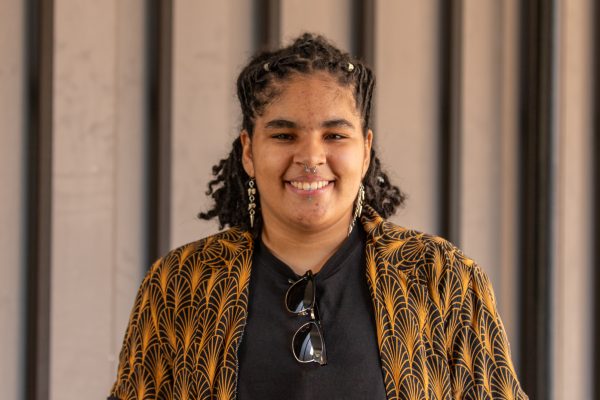 Maleah Evans, Reporter
Maleah Evans is a second-year reporter for The Sunflower. They previously worked as a copy editor. Evans is a sophomore, majoring in history with a minor...
Garima Thapa, Photographer
Garima Thapa is a second-year photographer for The Sunflower.