Finals prep week upended as Wichita State server outage limits access to key functions
Republished with permission from The Wichita Eagle
Wichita State students and staff regained some internet access Monday afternoon as the IT department scrambled to address a server outage that took many of the university network's key functions offline over the weekend. 
Shortly before 1 p.m., WSU issued a statement saying that "most of the University system access has been restored and there has been no indication that any of the University's secure data or information has been compromised." 
The news release, which was drafted with the help of WSU's general counsel, went on to say: "We anticipate that the University will have restoration of all networks and major systems by tomorrow, but we are also mindful that these incidents often create residual issues and future interruptions may occur." 
By mid-afternoon, student and staff emails had been restored and some students in Ablah Library were able to access the internet. Others said they were still experiencing difficulties.
WSU said the outage came over the weekend when it "took proactive measures and disconnected several University systems to isolate an unauthorized attempt by a third party to access the University's systems." WSU was previously sued for a 2019 data breach, when hackers targeted a database with the names, email addresses, birth dates and Social Security numbers of students, some of whom attended classes 20 or more years ago. 
The Saturday outage came as students were trying to submit final projects and prepare for exams next week.
"My students have been freaking out. They have the final project — multiple projects to submit online — and they haven't been able to do that," said Chinonyelum Anyichie, an English 102 graduate teaching assistant who has her own finals to prepare for. 
The server crash affected the MyWSU site, student and staff emails, the university employee portal, and Banner, the program students need to use to sign up for classes next semester. The outage also kept students from checking out books from the library and accessing university databases. 
KMUW, WSU's public radio station, was still unable to stream online Monday afternoon, according to their website. 
WSU told students in a Sunday-evening update that the university network would be available on campus starting Monday morning, but that was later removed and students said they still couldn't use the WSU wifi Monday morning. 
"The internet isn't really working so if I'm on campus, I have to use a hotspot and it's going a lot slower as I'm trying to finish my final projects," said Bethany Orchard, who was working in the Rhatigan Student Center around lunchtime.
Classes went on as planned Monday despite the disruption. Anyichie said she was able to send out a Blackboard message to her students Sunday afternoon, and in class Monday morning, she tried to calm their nerves.
"I told them it's OK. It's general issues. It's not their problem. And I asked them to send me a confirmation that they have indeed completed the assignment," Anyichie said. 
Student Body Vice President Sophie Martins encouraged students to remain calm and ask for extensions on projects that they have been unable to complete because of the outage. She said she's most concerned for students who live on campus and don't have access to reliable internet anywhere else. "I'm a commuter, so I was able to have at least access to Google Drive and stuff like that, but that's because I'm at home," Martins said.
She said she feels for the IT professionals who have been working hard to get the network sorted out. 
"The amount of empathy that I have for our IT department right now is crazy, because when everything's running smoothly, we don't think about them. And as soon as it goes down, then we think 'Oh, they're not doing their job' or something," Martins said. 
"Kudos to them on trying to figure this out."
*This story was originally published on May 1, 2023, by The Wichita Eagle.
Leave a Comment
About the Writer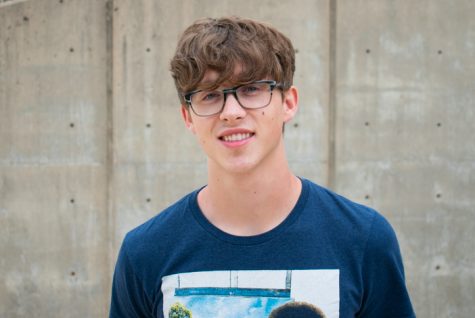 Matthew Kelly, Former Editor in Chief
Matthew Kelly is a former editor-in-chief and managing editor for The Sunflower. Kelly graduated in 2020 with a bachelor's degree in political science...