'Natural synergy': Finalist for fine arts dean's goals align with WSU's strategic plan
When a car drove through the first floor of a studio art building at her former school, Marie Bukowski said it opened the doors for conversation about art programs' value.
Bukowski, a candidate for the fine arts dean, visited Wichita State on Wednesday to discuss her vision for the university. She referenced the car incident from her time at Southern Illinois University to share how she would advocate for fine art buildings needing renovations.
"(The conversation) was no longer about resources, but it was about the value that (the arts) offer," Bukowski said. "That's the same with renovations — someone doesn't have to drive through the first floor of your building to have that conversation."
Bukowski currently serves as associate dean of the College of Arts at Kent State University. She also oversees multiple other programs there, and she previously served as the director of the School of Art at Kent State and Southern Illinois.
Bukowski said she was interested in WSU due to a "personal connection to this region" and her desire to work in an urban arts community. A first-generation student, she said WSU being an "open-access institution" is important.
"Being able to cut down on barriers and red tape to let students have an education, having it open for everyone, is really important," Bukowski said.
Bukowski said her vision aligns with WSU's five strategic goals: student-centeredness, research and scholarship, campus culture, inclusive excellence, and partnerships and engagement.
"That (collaboration) really aligns with my style of leadership, which is collaborating with as many people as possible to come to a common goal," Bukowski said. "(The strategic plan's) individual components are much stronger when they're stacked together, just due to the natural synergy."
For student-centeredness, Bukowski said she focuses on three elements: "voice, choice, and continuous monitoring of students." At Kent State, she developed a survey for students to take at the beginning and end of their programs, which she said guided curriculum changes.
"If (students) have that choice, they're going to be more engaged and be a much better student," Bukowski said.
To foster campus culture, Bukowski emphasized creating spaces for students, staff and faculty to discuss different perspectives. As the diversity, equity and inclusion initiatives chair, Bukowski said she spearheaded the DEI strategic plan in Kent State's arts college.
"The foundation of our work is built on retention, belonging and climate," Bukowski said. "Really, nothing else can thrive, if you're not really building that belonging."
When an audience member asked how she would increase diversity hires, Bukowski said Kent State redacts applicants' names to remove "hidden biases," and in the last year, diversity hires have increased by 40%, according to Bukowski.
"(Kent State is) still predominantly white. So that's made a very small dent, but it's a way to start to move that needle," Bukowski said.
To bolster inclusive excellence, Bukowski said she removed GPA requirements from scholarships, which she said eased the burden of students working jobs and improved grades.
"It's not that they weren't dedicated students or didn't have a passion for the arts, but their life circumstances didn't allow them to fully invest in the education that they wanted," Bukowski said.
Bukowski said research and scholarship are "how we communicate with the world." At Kent State, she said she developed the first faculty research fund and a forum for faculty to share their research with the community.
"That forum brought together committed scholars and creatives from all disciplines," Bukowski said.
Students, faculty and staff can fill out a survey about Bukowski, which will close on May 6.
Leave a Comment
About the Writer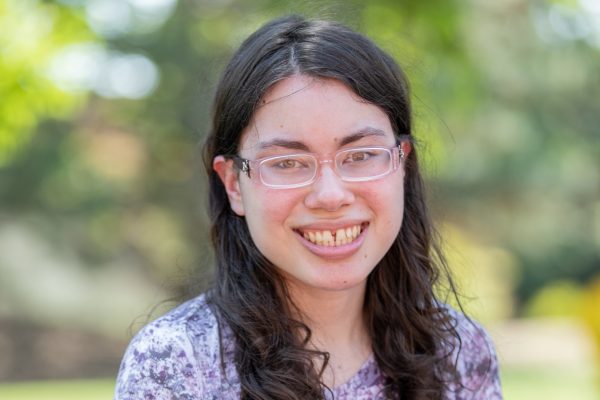 Courtney Brown, Investigative News Editor
Courtney Brown is the investigative news editor for The Sunflower. Brown previously worked as a reporter and assistant news editor.