Therapy dogs on campus free to anyone anyone in need
Dogs are in tune with human hormones, smelling when people are stressed, anxious or depressed. As finals come up, these emotions appear more often, students are more than welcome to play and cuddle with the therapy dogs on campus.
When dogs sense these emotions, they often lay their paws on a person's body. Through the feeling of fur and the pressure of the paw, the brain is told to release oxytocin, which calms the nervous system.
"(Dogs) are very good at recognizing those signs in people," Mahsa Maghsoudi, the clinical director of the WSU Integrated Support and Empowerment (WISE) clinic, said. "They read your body language and facial expressions." 
At Wichita State, students and community members can go to the WISE Clinic and play with three therapy dogs – Rex, Cumin and Sam –  when they are feeling stressed. 
"We have some clients that come in 20 to 30 minutes before their appointment times just to play (with the dogs)," Maghsoudi said.
WISE is also willing to accommodate clients who are scared of dogs.
"I have a client who started off scared of dogs and so I left Sam behind for our first sessions," Christie Henderson, assistant clinical professor at Wichita State said. "Soon she got more comfortable with the idea, and we slowly introduced Sam and she would slowly pet him." 
"I think having a calm interaction with a dog worked to heal some of the trauma she had," Henderson said. 
Members of WISE have also found that simply allowing people to see the dogs can alleviate fears. By the end of a semester, previously scared clients become less frightened and more willing to touch them.
Sam has been fully certified, and on top of working on campus, he also works with seniors through Love on a Leash, a non-profit pet therapy group. As of now, Rex and Cumin have gone through basic training, and their certification training starts next month.
According to Masghoudi, WISE offers free services, and their counselors are graduate students in training under faculty supervision.
Leave a Comment
About the Writer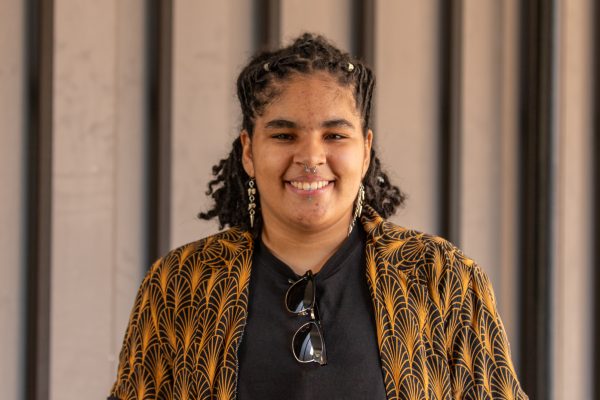 Maleah Evans, Reporter
Maleah Evans is a second-year reporter for The Sunflower. They previously worked as a copy editor. Evans is a sophomore, majoring in history with a minor...