Spektrum Muzik offers something for all music lovers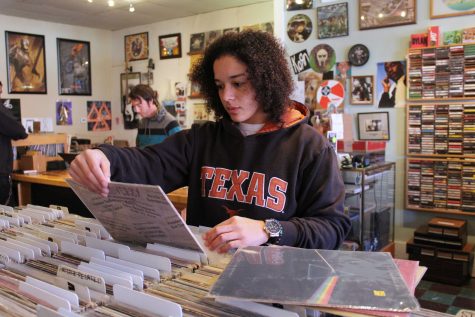 Stepping into Spektrum Muzik for the first time is like taking a step back through time to the 1970s. 
The first thing seen when entering the store at 905 W. Douglas Ave. are the stacks upon stacks of vinyl records and 70s psychedelic-rock posters plastered all over the walls.
Despite the store's vintage aesthetic, different forms of new music can be found sprinkled throughout the store. 
CDs and cassette tapes also line the walls next.
With the recent increase in popularity with vinyl records, employee Les Easterby said most of the store's new merchandise sells out fast and is often hard to find.
"We are always constantly having to restock albums from bands like 21 Pilots, Fleet Foxes, Black Keys and Tame Impala, those would probably have to be our top selling," he said. "Then of course we are always running out the classic rock albums from bands like Pink Floyd and Led Zeppelin."
Though most of their modern merchandise sells out quickly, Easterby said there can sometimes be a high demand for local, underground bands like Travel Guide and Kill Vargas.
Easterby said most of the Spektrum Muzik's employees are musicians themselves and some, including himself, even sell their own music in the store. 
"I get to listen to music all day and converse with fellow music lovers," he said. "I even have gotten to hear some of my own music and since I've started working here, I have also discovered a lot of new music."
Recently getting through the store's Black Friday sale, Easterby said during this time of year, people of all ages come in to get something for himself or herself or as a gift for a fellow music lover. 
"I think people love it because of the physicality — you can actually get it out and touch it," he said. "The reason I think a lot of young people like it is because it could be a connection to their parents or grandparents."
When comparing digital music to vinyl, Easterby said people debate about whether vinyl has a better sound quality.
"There also is the belief out there that records have a warmer sound," Easterby said. "With older records, people also like the fact that you can hear the mistakes of the musicians, just the other day I was listening to a Bill Withers album and in one of his songs, I'm pretty sure he was off key, but that's one of the reasons people have such a high appreciation for old records."
Easterby said most of the time, the most popular customers are avid vinyl collectors, however the store has been getting more and more newcomers since opening.
"This has only been my second time coming here and I just recently started collecting records," Friend's University graduate Rondeci Oliver said. "I mostly just go for classic rock, but I love all the options they have here."
Butler Community College student Ben Doggatt visits the store almost every other week in search for new albums.
"I love the atmosphere here and the people," he said. "When I first started, I got a record player from this place, then I got some records from local flea markets and garage sales, now I have about 15 records." 
For people interested in starting a record collection, Doggatt said the first thing to do is research. 
"Find an album you love then go from there," he said. "It's not really something for everyone, but I would say if you have the money, and it is something you really want to get into, then go for it."
Leave a Comment
About the Contributors
Madeline Deabler, Advertising Manager
Madeline Deabler is the advertising manager for The Sunflower. Deabler is a senior and is double majoring in journalism and graphic design. Originally...
Selena Favela, Photographer
Selena Favela is a photographer for The Sunflower.

She was the photo editor for The Sunflower her junior year. Favela is currently a senior majoring...