Tompkins' career-high, fourth quarter defense gives Shockers third straight
Junior forward Angiee Tompkins has only started three games this season, but has turned out to be one of Wichita State's most productive players. Tompkins is WSU's third-leading scorer with an average of 7.1 points per game while averaging 15 minutes of play, mostly doing it coming off the bench.
Scoring a career-high 20 points and snagging eight rebounds, Tompkins helped the Shockers earn their third-straight victory by defeating Illinois State 67-45 and sweep the weekend series without head coach Jody Adams-Birch at Koch Arena on Sunday.
Athletic Director Darron Boatright also announced on Sunday that Adams-Birch and WSU have agreed to part ways. Former WSU head coach Linda Hargrove will serve as the program's head coach for the remainder of the 2016-17 season.
"(Not starting) doesn't bother me at all," Tompkins said. "I just hope to have a high-performance game every time I step on the floor. Starting really doesn't matter, it's how you finish."
A five-foot jump shot from junior Rangie Bessard and a quick three from junior Jeliah Preston gave the Shockers a 11-6 lead early in the first quarter. A free throw by junior forward Angiee Tompkins after drawing the foul on a made basket pushed WSU out a 19-10 lead at the end of the first quarter.
The Shocker defense swarmed ISU, forcing 10 consecutive missed shots and 22-percent shooting during the opening 10 minutes.
"We wanted to come out with a lot of energy and do the intangibles the right way," Bessard said. "Starting inside is our strength, so we got a little bit of a chance to work inside and see how they would play us. We started going outside, with guards coming off screens and knocking down shots. There was a lot of confidence in the atmosphere today."
A double digit lead and an 11 consecutive field goal missed streak was broken by Illinois State's Taylor Stewart off a layup that cut the Shocker lead down to eight. Stewart, ISU's leading scorer, was held to 1-7 shooting.
"We kind of played a combination of defense most of the game, where our guards played zone and our posts played man," acting coach Kirk Crawford said. "It allowed us to chase (Stewart) and not give her any open spaces."
Tompkins made a jumper gave the Shockers back a double digit lead until the Redbirds drained in a three-pointer to trail by seven. The Redbirds cut the deficit by five points off a layup, but a running floater with eight seconds left by junior Keke Thompson allowed the Shockers to take a 30-23 lead at halftime.
ISU trimmed the deficit by two with a three-point bomb, but a basket from senior TaQuandra Mike and a three from Preston extended the Shockers' lead 37-32 with 4:11 left in the third quarter. The Redbirds shot 67 percent from the floor to trim the deficit 47-39 at the end of the third quarter.
WSU continued to build their lead by starting the fourth quarter on an 11-0 scoring run. Junior Diamond Lockhart knocked in a three-pointer on WSU's first possession of the quarter that was followed up with Bessard finishing a layup. Bessard followed up with a three-pointer and jumper from just inside the arc to push the Shockers ahead 56-39 with 6:50 left.
Bessard's pass from the top of the key to Tompkins allowed for another easy basket inside before ISU stopped the bleeding with an inside basket with just over five minutes left. Bessard added 16 points and three rebounds while Preston added eight points.
The Shockers had 36 points of their points from players coming off the bench and finished the game shooting 50 percent.
"These last two wins have been collective wins by everybody," Crawford said. "We did this by committee. Not one person is responsible for this."
WSU (8-10, 3-4) travel to Indiana State to take on the Sycamores on Friday, where Hargrove will make her first appearance as head coach.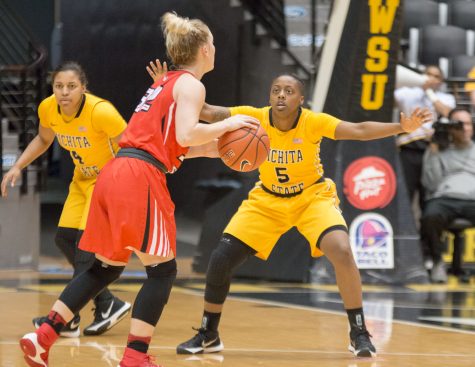 About the Contributors
Grant Cohen, Reporter
Grant Cohen is currently a reporter for The Sunflower. Cohen is a junior majoring in communications with an emphasis in journalism with a minor in sport...
Selena Favela, Photographer
Selena Favela is a photographer for The Sunflower.

She was the photo editor for The Sunflower her junior year. Favela is currently a senior majoring...