'A blessing in disguise'
Senior basketball player turns to broadcasting after season-ending injury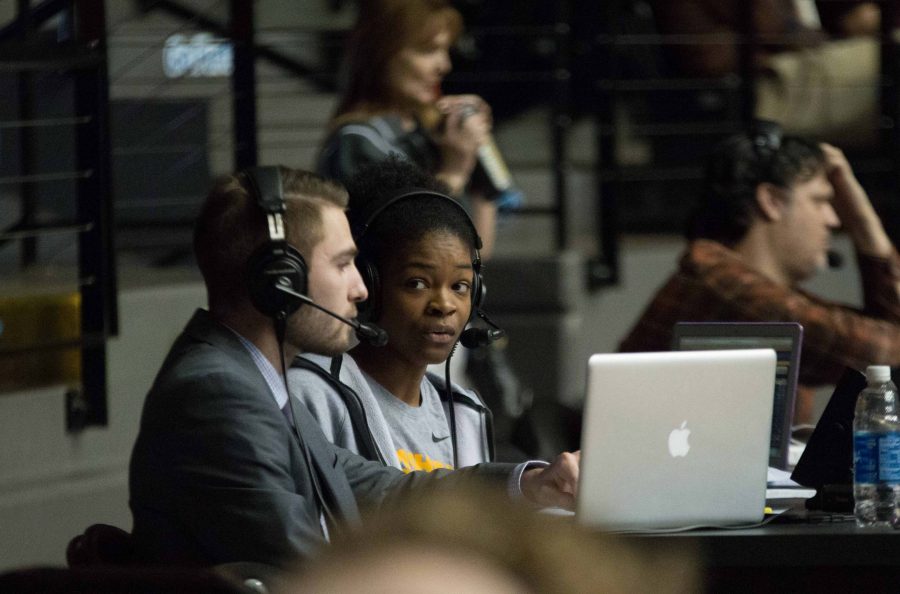 Senior Jaleesa Chapel's final season turned from the court to the sideline in an instant.
She tore her ACL in a team practice, one week before women's basketball's was supposed to open their season.
Knowing that Chapel was studying communications with an electronic media focus, then head coach, Jody Adams-Birch, did not want the fourth year senior to waste time watching the games from the bench.
Adams-Birch brought an idea to radio play-by-play announcer Steve Strain before the team's first home game against Creighton: have Chapel on as a color commentator.
"(Jody) knew that Jaleesa wanted to get into some level of broadcasting," Strain said. "It started off that Jaleesa would come over at halftime and during the pregame show and give me a little bit of analysis. Then Jody had said, 'if you want her to do some games with you, I certainly wouldn't be opposed to that.' I welcomed that (idea) with open arms."
Chapel, who spent time as a news intern for KTRK-TV in Houston this past summer, called her first game with Strain during the team's first home game against Creighton on Nov. 13. Without any prior experience broadcasting games, Chapel called her first game by using her knowledge of the game with pointers that Strain had given her before tip off.
In the first game, she added in a unique perspective from a player's standpoint. She articulated how the team's offensive and defensive sets were supposed to run and explained to the audience why a certain play was or was not successful.
Watching practice and learning about the scouting report helped enhance the way she broadcasts each game, Chapel said.
"I did (read the scout) as a player but now that I am really talking about them, I am reading over the scout constantly," Chapel said. "I try to remember their names, their tendencies so that it can flow when I'm broadcasting."
To help her improve after every game, Strain gives Chapel a copy of that game's broadcast for her to review.
"(Listening to myself) is kind of the weirdest thing I've had to adjust myself to," Chapel said. "I don't like hearing my voice sometimes. I'll listen to myself and critique myself and say, 'hey I could've rephrased in this area or I could've used this word better.' I do the same thing in TV as well."
Chapel expanded her broadcasting career to an even higher level, doing her first television broadcast during Sunday's game against Illinois State for The Valley on ESPN3. That experience helped her open the door for working at her dream job: ESPN.
After using this season to polish her broadcasting, Chapel will return to the team for her senior year once the NCAA approves her for a medical hardship. Even though her senior year got off to a sour start, Chapel said that her injury allowed her to gain valuable broadcasting experience.
"(The injury) has been a blessing in disguise," Chapel said. "I'm learning a lot from the other side. I see the game in a different perspective. I'm able to meet a lot of people and make contacts with people and network with people in that way. I'm just blessed and thankful for all of the opportunities that I've gotten."
Although Chapel is missed on the court, her teammates support what work she is doing. Hannah Mortimer, teammate, said that she still keeps a positive spirit in the team's practices while looking forward to calling each game. They are proud of Chapel for taking an unfortunate set back into a career-changing opportunity.
"I think it's so amazing what Jaleesa is doing," Mortimer said. "She has taken a bad and unfortunate situation with her knee and has really made the best out of it.
"I'm so proud of her and how she has kept a positive spirit throughout the whole situation." 
About the Contributors
Grant Cohen, Reporter
Grant Cohen is currently a reporter for The Sunflower. Cohen is a junior majoring in communications with an emphasis in journalism with a minor in sport...
Selena Favela, Photographer
Selena Favela is a photographer for The Sunflower.

She was the photo editor for The Sunflower her junior year. Favela is currently a senior majoring...