Linda Hargrove returns to coaching Friday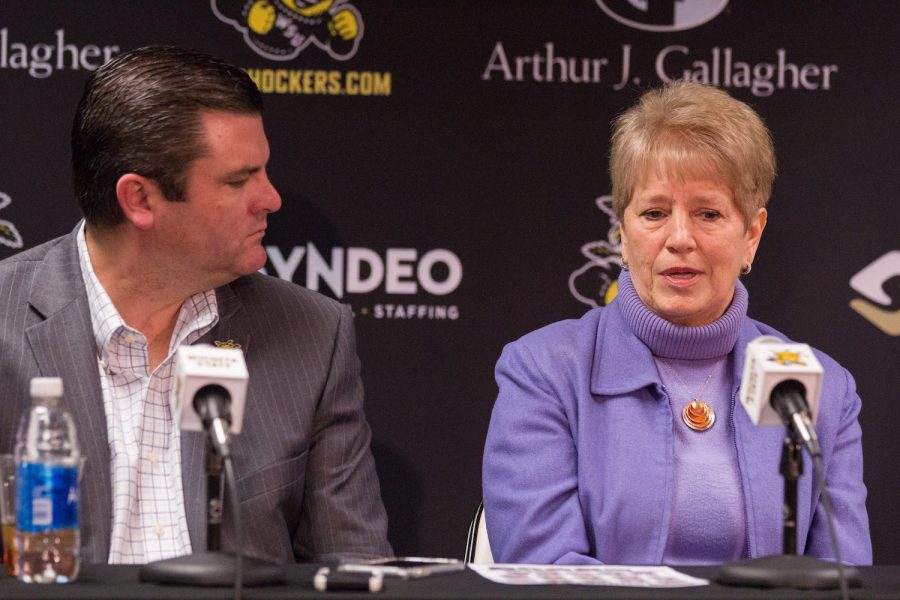 Former Wichita State women's basketball coach Jody Adams-Birch turned the Shockers into a winning program.
From 2013-15, the Shockers won three consecutive Missouri Valley Conference regular season and tournament championships while making three straight trips to the NCAA Tournament.
Adams-Birch's career is stained by two investigations in 2015 and 2017, where her players complained about her extreme coaching tactics, ultimately leading to her departure. 
"In-line of everything that has happened, there are a lot of those players that did well academically," play-by-play radio announcer Steve Strain said. "Jody cared about that and cared about these kids. Whatever they wanted to do (in life), she cared about that."
Linda Hargrove will make her second debut leading the Shockers on Friday at Indiana State after being announced as WSU's eighth women's basketball head coach earlier this week.
Hargrove was the WSU head coach from 1989-98 after starting the women's basketball program at Cowley Community College, where she compiled a record of 429-248.
Athletic Director Darron Boatright has known Hargrove through their working relationship as board members of the Kansas Sports Hall of Fame and said he was impressed with her résumé as well as the way she carries herself.
When a vacancy needed to be filled for the head coaching job at WSU, Boatright had the option of going with assistant coach Kirk Crawford, who had led the Shockers to two weekend wins during Adam-Birch's suspension, or another assistant coach who had been on the staff all season.
Instead, Boatright wanted to bring someone in who had the experience as a head coach working with both college-aged women and professional players.
"I would've had no qualms about staying with the current staff, but I only wanted to do that if Linda declined the opportunity," Boatright said. "I just had it in my mind that once it became apparent that I was going to need someone for the remainder of the year.
"I wanted her to have the opportunity to turn me down."
While the players had Monday off from basketball activity, Hargrove spent the day before the news conference meeting individually with each player about the goals and expectations for the remainder of the year.
The players mentioned that they want to go back to having fun as they did in last weekend's games, Hargrove said.
The players returned to practice on Tuesday, with Hargrove's focus being to learn the team's offensive and defensive schemes before implementing anything new.
"Right now, I'm going to work with the coaches to get on top of the things they already have," Hargrove said. "It's not fair to them to bring in a whole new system right now."
Hargrove said she was very impressed with the level of talent that was there and how hard each of the players played.
Hargrove will be only heading the program for the remainder of the season. She said her main goal is helping the players feel that they can be proud to play for WSU.
"The main thing from my perspective is to not only try to be as successful as we can on the court, but it's to try to help these young women have a positive experience and feel good about the Wichita State women's basketball program and Wichita State University," Hargrove said.
WSU (8-10, 3-4) go on a two-game road trip starting with Indiana State at 6 p.m. Friday.
About the Contributors
Grant Cohen, Reporter
Grant Cohen is currently a reporter for The Sunflower. Cohen is a junior majoring in communications with an emphasis in journalism with a minor in sport...
Matt Crow, Former Sports Editor
Matt Crow is the Sports Editor for The Sunflower. Crow is a senior at Wichita State majoring in communications with an emphasis is electronic media. He...