Boatright: 'We expressed a desire to go now and avoid the lame duck round around the Missouri Valley'
Wichita State officials reveal leave for AAC move was a 15-month, fast-moving process.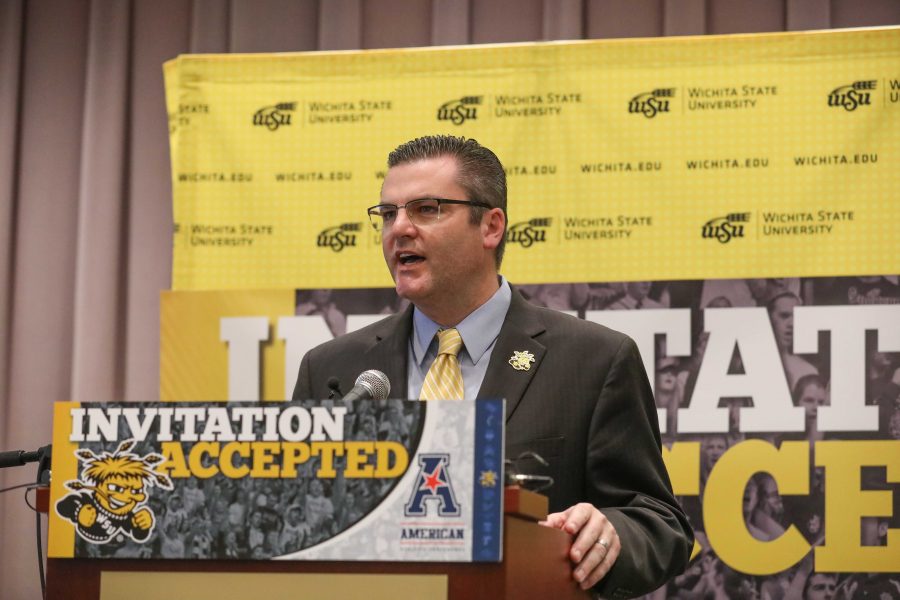 Wichita State couldn't bear the agony of another season in the Missouri Valley Conference.
Wichita State men's basketball head coach Gregg Marshall didn't want to have to entertain a home-and-away with Drake.
Wichita State President John Bardo felt like the academic relationship with his growing research facility was giving too much to institutions in the give-and-take relationship with Missouri Valley universities.
Bardo reached out to WSU Athletic Director Darron Boatright on a mission to satisfy his dreams of an improved prestige.
Friday, 12 American Athletic Conference presidents voted unanimously to approve Wichita State's admission to the league. Bardo, with a wide smile as he took the phone call, couldn't thank American commissioner Mike Aresco enough.
"It was important to move quickly to become part of one of the best conferences in America," Bardo said.
Wichita State will join the AAC July 1, 2017.
"It would not have been a very comfortable year," Boatright said. "We expressed a desire to go now and avoid the lame duck round around the Missouri Valley for another year.
"I don't think that would have been fun for anyone. I really wasn't looking forward to putting our kids and coaches in that for a year. It wouldn't have felt right. "
Wichita State, beside the help of College Sports Solution, a national consulting firm, examined numerous options for a new conference affiliation. Bardo sought to reside alongside institutions that shared his goals for enrollment, academic research and athletics. He thought schools like those in the American, the Mountain West and the Atlantic 10 were all possible upgrade.
An official search began 15 month ago.
"It hasn't always been the American, but I wouldn't identify anyone else that communicated with our consultants," Boatright said.
Boatright said the search intensified when the Big 12 decided not to expand.
"I think that allowed conferences the opportunity to look at themselves and make decision long term," Boatright said. "We communicated with several conferences, because at the time, we didn't know where the football question stood.
Previously, Wichita State had floated the idea of reviving their football program from 1986 as a way to attract possible conference affiliations.
"We're not going to talk about football for awhile," Bardo said. "Doesn't mean it's dead."
Formal discussions about moving the Shockers out of the Missouri Valley Conference ahead of the 2017 season switched gears in October.
"It was the first time I thought this thing could actually work," Boatright said.
While the reality picked up, Boatright added that he had not been in communication with AAC officials until last Thursday.
"The addition of Wichita State in basketball and Olympic sports extends our conference's national footprint, enhances our national profile and strengthens our position as a leader in intercollegiate athletics," Aresco said.
Aresco added in a press conference that he imagines it would be a matter of time before the AAC emerges as one of the top basketball conferences in the country.
Wichita State had been a member of the Missouri Valley Conference since 1945. Presidents and athletic directors of the nine remaining MVC schools will meet Sunday to discuss realignment options.
"I think it'll be exciting for fans. I think it'll be gut-wrenching for coaches," Marshall said. "The entertainment value should be through the roof."
With the addition of Wichita State, the AAC now has 12 basketball schools. Football-only Navy gives the league 12 members for football.
League members are: Central Florida, Cincinnati, Connecticut, East Carolina, Houston, Memphis, Southern Methodist, South Florida, Temple, Tulane and Tulsa.
About the Writer
Evan Pflugradt, Sports Editor
Evan Pflugradt is the former Sports Editor of The Sunflower.

Pflugradt past served as the publication's Editor in Chief, Opinion Editor and a reporter....