Multiple Wichita State campus art pieces vandalized
"This act is a slap in the face to the decades of WSU students this collection represents." — Bob Workman, Ulrich Museum of Art Director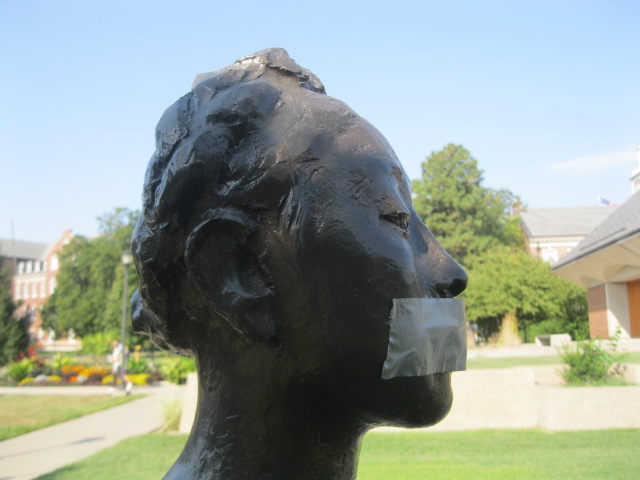 Eleven pieces of Wichita State's extensive outdoor art collection — all depicting female figures — were vandalized with duct tape covering the figures' mouths, WSU officials said Friday morning.
The latest piece to be discovered is Henry Moore's "Reclining Figure," a bronze statue outside Ablah Library. Ulrich Museum of Art preparators discovered the vandalism around 9 a.m. Friday morning.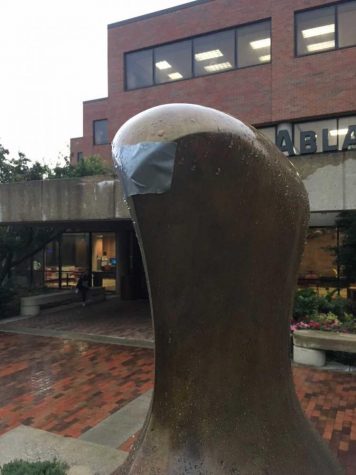 "This is unprecedented," Bob Workman, Ulrich director, said Friday morning. "It's deeply disturbing, what they have done. They have chosen a vehicle that's extremely offensive."
Workman added that Henry Moore's "Reclining Figure" is said to be the most valuable piece in WSU's outdoor collection.
"There's no question about it, it's a world class object," Workman said. "It's basically irreplaceable."
"Tres Mujeres Caminando," a statue of three women located outside the Rhatigan Student Center, across from Grace Memorial Chapel, was vandalized Thursday morning. Workman said this was the first of a series of sculptures to be damaged between Thursday and Friday morning.
Stephanie Teasley, art registrar for the Ulrich, said she removed the duct tape from "Tres Mujeres Caminando" after the incident was reported to the WSU Police Department Thursday morning. The tape left a residue on the art, she said.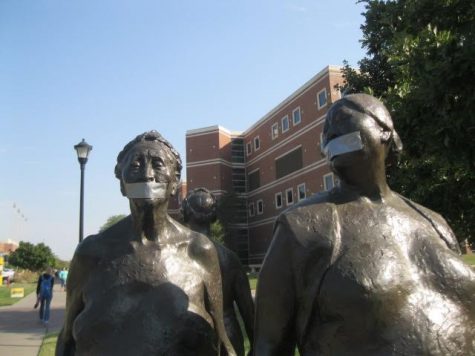 "I suspect this was more 'student activism' on the sculptures," Teasley wrote in an email to Workman.
"Tres Mujeres Caminando," a 1981 sculpture by artist Francisco Zuñiga,  is scheduled for conservator's examination in October.
All of the outdoor art is reviewed by conservators twice a year. Bronze pieces like "Reclining Figure" and "Tres Mujeres Caminando" are waxed at least once and sometimes twice a year.
Workman said he has been in communication with conservators since the first incident Thursday morning. They have instructed that WSU treat the residue with mineral spirits.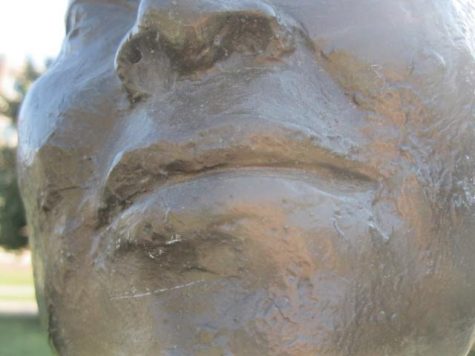 Should the Henry Moore sculpture be seriously impacted, Workman said he will ask to rush the conservator's visit.
Workman and other university officials have already started conversations about the possibility of adding security cameras overlooking the outdoor collection. Action could be taken "almost immediately," Workman said.
"We are quite disturbed about the reckless treatment of these major — and valuable — works of art," Workman said in an email to WSU officials.
Friday afternoon, Wichita State responded with a statement condemning vandalism of campus sculptures.
"The Martin H. Bush Outdoor Sculpture Collection is a university and community treasure that brings quality, pride and character to campus," WSU President John Bardo said in the statement. "Defacing great works for art is an attack on freedom of speech, artistic expression and the very nature of the university."
Sunday evening, Robert Indiana's "LOVE" statue had been covered with more than 30 fliers. They had been removed before 8 a.m. classes Monday.
Wichita State has not claimed responsibility for the removal of the signs.
The printouts showed a screenshot of two now-suspended Phi Delta Theta members hanging a banner outside the fraternity house with the words "New Members … Free House Tours" under a headline that read "This is what rape culture looks like." The printouts listed resources — including a hotline — to help victims of domestic violence and sexual assault."
In a Facebook post, We The Students, a group of activists, called Wichita State "hypocritical" and "counterintuitive" for removing the signs, saying that their concerns are being silenced.
"This is a disgusting example of censoring the most vulnerable voices," We The Students said in a Facebook post shared Monday.
Workman said he saw a connection between the incidents.
"I'm the first to support activism, but they have chosen a vehicle that's extremely offensive," he said. "This act is a slap in the face to the decades of WSU students this collection represents."
"
This act is a slap in the face to the decades of WSU students this collection represents."
— Bob Workman, Ulrich Director
In May, several members of We The Students placed duct tape over their mouths during a sit-in protest outside the student government offices in response to what witnesses described as a racial incident at an SGA banquet that month. Duct tape was used to symbolize how marginalized students felt they had been silenced by the university administration.
We The Students did not immediately respond to requests for comment.
About the Contributor
Evan Pflugradt, Sports Editor
Evan Pflugradt is the former Sports Editor of The Sunflower.

Pflugradt past served as the publication's Editor in Chief, Opinion Editor and a reporter....