2 Phi Delta Theta members suspended by fraternity for 'Free House Tours' banner
A banner encouraging new sorority recruits to visit for "free house tours" was hung from a window at Phi Delta Theta fraternity Friday, the first day of Greek recruitment, leading to the suspension of two chapter members and a Title IX investigation.
One student tweeted a photo of the banner before it was taken down and posted it to social media. Two men are visible in the photo.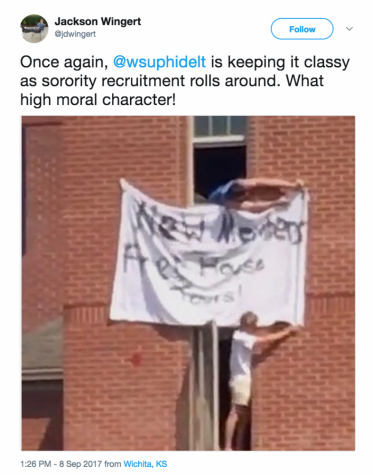 Courtesy Photo
The banner, reading "new members … free house tours," was up for about five minutes, Director of Student Involvement Nancy Loosle said.
The incident — reported to student conduct by a student Friday afternoon — is being reviewed to determine if a further investigation is warranted, Mandy Hambleton, assistant vice president for student advocacy, intervention and accountability, said.
Hambleton said the incident is being investigated as a potential conduct violation as well as a potential Title IX violation.
Title IX of the Education Amendments of 1972 forbids sexual harassment and sex discrimination in educational institutions that receive federal funding. Schools are legally required to respond promptly and effectively remedy hostile educational environments. Failure to do so puts an institution at risk of losing federal funding.
Hambleton said right now more information and context is needed to move forward.
"Right now I just basically have a picture," Hambleton said.
An internal fraternity investigation, conducted by officers within the chapter, led to the immediate suspension of two chapter members.
Keehn Hanneman, Phi Delta Theta president, did not respond to requests for an interview but emailed a statement posted on Phi Delta Theta's Twitter page: "The recent actions of two members of our chapter in no way align with the values of Phi Delta Theta. The members involved have been suspended effective immediately and further investigation is underway. We apologize for these actions."
Student affairs was informed of the situation within a half hour of the banner's placement Friday, by a member of the Greek community who saw the banner and reported it to the student affairs office, Loosle said.
"As soon as their leadership heard about it, they rushed to make sure it was down," Loosle said.
The WSU student affairs account tweeted Saturday morning in response to the incident: "WSU does not condone sexual harassment in any form. The inappropriate banner at Phi Delt was addressed and sent on for further investigation."
Loosle said this incident does not reflect the values of the Greek community at Wichita State as a whole.
"It's unfortunate that a small group of individuals made a poor decision that now affects the entire Greek community," Loosle said. "That's why when issues arise, we deal with them and educate."
Teri Hall, vice president of student affairs, said with recruitment starting Thursday night, the incident brought "a chilly climate to campus." Hall said while the banner was "absolutely inappropriate," the timing escalated the incident, both with recruitment beginning and with the apparent rollback of Title IX by Secretary of Education Betsy DeVos.
"I think we're all a little more sensitive because of the statements Betsy DeVos made (Thursday)," Hall said.
One student who wished to remain anonymous said she saw the banner as it went up.
She said it brought back memories of being sexually assaulted.
"When I first saw it, I was utterly disgusted," the third-year WSU student said. "It really brought back those events. It gave me no hope for improvement."
She said it's undeniable "[the banner] had sexual baiting undertones."
View Comments (53)
About the Contributor
Andrew Linnabary, Former digital managing editor
Andrew Linnabary was the 2018-2019 Digital Managing Editor of The Sunflower. He studied journalism and minored in English. Linnabary is from Wichita, Kansas.