Regents address conflicts of interest
David Murfin, chair of the Kansas Board of Regents (KBOR), identified himself as "the biggest problem" during a discussion of conflicts of interest at a KBOR meeting in Topeka on Thursday.
KBOR oversees operation of state universities in Kansas, including Wichita State. A conflict of interest arises when a Regent has a vested interest — financial or otherwise — in the dealings of an institution governed by KBOR.
Murfin and his affiliated companies have been heavily involved with the Wichita State Innovation Alliance.
Murfin, who was appointed to a four-year term on the board by Gov. Sam Brownback in 2015, is the co-owner of two development companies that have ties to properties on Wichita State's campus. He is the part-owner of MWCB, LLC and BGC Developers, LLC.
MWCB, LLC, which is a joint venture with three other prominent area businessmen, is responsible for the development of The Flats housing facility on Innovation Campus. The Flats were constructed in February — more than a year into Murfin's term on the board — but Murfin says that planning began before he was appointed.
Murfin abstained from the vote to lease the Flats building to the school.
On June 30, the Regents met over the phone and passed Wichita State's request to lease approximately 13,000 square feet of land to MCWB, LLC for the development of another building for the Wichita State Innovation Alliance.
Murfin abstained from the vote.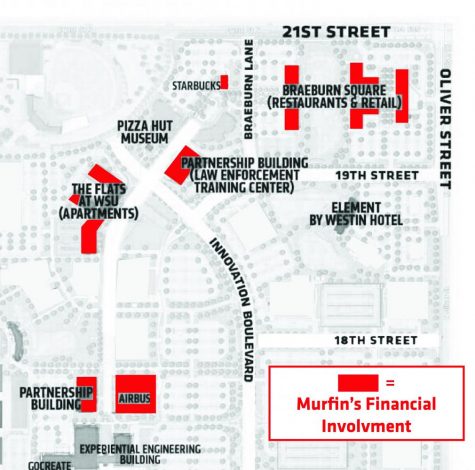 MWCB, LLC also managed the development of the recently-built Airbus building on Innovation Campus. The university announced the partnership in March of 2015. Brownback appointed Murfin to the board five months later. The building's construction was finished in January. About 400 Airbus employees now work there.
BGC, LLC, is involved with developments on Wichita State's Braeburn Square, a privately-funded retail area on 21st Street and Oliver Avenue near the Innovation Campus.
Starbucks was the first retail development in Braeburn Square. BGC, LLC financed and managed its construction.
"Starbucks is just the welcome mat," Wichita State Vice President for Strategic Communication Lou Heldman said in January. "You haven't seen the whole house yet."
Braeburn Square is also home to The Food Truck Plaza. In June of 2016, the university announced plans for the addition of a 123-room Westin Element Hotel.
A report from KBOR said that Murfin also owns three companies — Executive AirShare, LLC; Gladiators, LLC; and Air Capital Flight Line, LLC — that "have one or more working relationships with the University of Kansas, Kansas State University and Wichita State University or their affiliated corporations."
A Jan. 4 article from the Executive AirShare, LLC website touts its involvement with Wichita State Men's Basketball recruiting.
The article quotes WSU Men's Basketball Head Coach Gregg Marshall praising the company.
"Executive AirShare is great at making a game plan so the trip can be successful and we can get a win out of the trip," Marshall said.
The company's website says that Murfin and Executive AirShare founder Bob Taylor maintain significant ownership of the business.
Executive AirShare's Media Contact Jill Plumb could not be reached for a comment.
Additionally, Murfin serves as a member of the Board of Trustees of the Kansas University Endowment Association and the University of Kansas School of Business Board of Advisors.
In June of 2010, the Kansas Board of Regents adopted a conflict of interests policy. The policy requires Regents to disclose "certain transactional interests, memberships and affiliations." It also calls for the board to "review the disclosures and make participation determinations."
The Kansas Board of Regents Policy Manual says that conflicts of interest are common in modern universities, and that they need to be addressed. Regents are advised to abstain from participating in committees or voting on issues that involve conflicts of interest, but the board as a whole is ultimately tasked with making the determinations on a case-by-case basis.
"I want to be as transparent as possible," Murfin said Thursday.
Murfin is not the only Regent to disclose conflicts of interest.
"He's just one of the problems," one Regent said.
Regents Shane Bangerter and Joe Bain both own law firms that have provided legal services to institutions governed by KBOR. Bangerter owns Bangerter Law, P.A., which a KBOR report said, "has provided legal services to Dodge City Community College in the past and may do so for that or other institutions in the future." Bain is the vice president and a 40 percent shareholder of Cure and Bain, P.C., which provides legal representation to Northwest Kansas Technical College.
Other Regents serve on various boards or committees at institutions governed by KBOR.
View Comments (2)