Po Boy: A tasty Southside tradition
At a small Southside restaurant, a famished student might order an Italian chicken Po Boy sandwich and a large double-cheese steak pizza with hand-tossed crust baked to homemade perfection. On a recent trip to Po Boy at the corner of Lincoln and Edgemoor, just such an order struck my taste buds. The food was a revelation, to say the least.
The scene at Po Boy is a rather inauspicious one. Wedged in a studio space across from N&J Global Market, Po Boy serves up a mix of continental and Italian cuisine. Wichita native May Khoury has been running Po Boy for the last 30 years, relying on unwavering customer loyalty.
"All the students come here," Khoury said as I placed my order.
Khoury said that the most popular menu item among young people is the homemade pizza rolls.
The sandwich and pizza, which cost just over $14 combined, proved indubitably to be worth the charge. Po Boy has good marks for affordability, especially compared to other major pizza chains.
The food arrived at my table rather swiftly, despite the restaurant being packed with customers. The massive cheesesteak pizza was steaming hot and smelled of New York-style pizza grease — a scent of true ambrosia that truly strokes an appetite.
The pizza — which is made with homemade dough, baked fresh by Khoury every day of the week — is delectable. The mozzarella is laid on thick and juicy atop hand-tossed crust which has a lasting aftertaste of butter and grease that, while hard on the heart valves, is irresistible.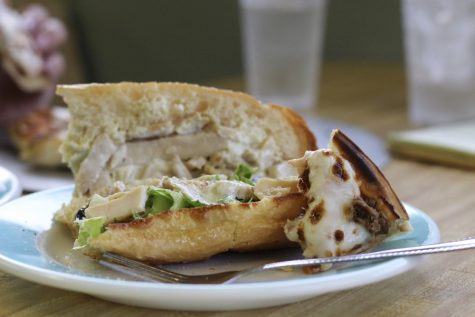 What was really surprising, however, was the chicken Po Boy sandwich. Splashed with Khoury's secret Italian dressing and complimented with fresh lettuce, onions, and black olives for the extra bit of flavor, the sandwich was an unexpected delight.
Along with the food, Po Boy offers eclectic décor that exudes a retro feel. Four Deer Hunting USA, Multicade Arcade, The Simpson's Pinball, and Mortal Kombat 4 — I can't think of better way to pass the time while waiting for pizza.
Caricatured drawings of Italian chefs hang on the walls, giving the restaurant a mom-and-pop feel. It's small, yet intimate in a way that makes you want to be there with a date — a rare combination for the south side of town.
Po Boy is the epitomy of off the beaten path. It's cool place to go and indulge in slice or two — or eight.
View Comments (1)