Headcount Padding: Wichita State reports largest student increase in state
Overall enrollment at Wichita State is up, but fewer students are seeking degrees at the university this year than any of the last seven years, despite a multi-million dollar investment in student recruiting.
But Friday, the university announced enrollment numbers indicating the fastest growth of any four-year school in the state.
That increase was achieved through the last-minute enrollment of non-degree-seeking senior citizens, high school students, and working professionals in half-credit-hour courses.
Since 2012, President John Bardo has stressed reaching a goal of 22,000 students. According to the university's master plan, framework for the Innovation Campus is based on the assumption that enrollment will reach 22,000.
Total headcount reported Friday was 15,081 — nearly 7,000 from that goal — even with the last-minute enrollees.
A last-minute rise in enrollment
Despite a drop of 136 in Wichita State degree-seeking students, the university touted an increase of 607 students from last fall's 20-day headcount. This number is self-reported by each university to the state and used as their official enrollment number for the year.
On Sept. 1, total headcount had fallen behind last year's numbers for the same day by more than 100 students. On that date, 233 students had enrolled in badge or lifelong learning courses, according to records provided by WSU to the Wichita Eagle.
WSU would not provide pre-20-day enrollment data to The Sunflower, citing an exemption to the Kansas Open Records Act.
From Sept. 1 to Sept. 15, the Friday before enrollment numbers were due to the state, WSU offered free, "self-directed" badge courses for any non-degree-seeking student who signed up for one of 35 different courses. It also offered free lifelong learning courses to anyone aged 60 and older who signed up by Sept. 15.
At the end of the two-week free enrollment period, 901 students had signed up for badge and lifelong learning courses — including those enrolled before Sept. 1.
Without the students enrolled during those two weeks, WSU's headcount would have been down from last fall by 61 students.
The increase makes WSU the fastest-growing university in the state, according to total headcounts for each state university provided by the Kansas Board of Regents. The University of Kansas's enrollment increased by 46 students this year. Kansas State's enrollment dropped by 984.
Wichita State still ranks fourth in overall enrollment headcount among four-year universities in Kansas, behind the University of Kansas, Kansas State, and Fort Hays State — which passed Wichita State in enrollment last year. Fort Hays State's fall 2017 enrollment number, 15,100, is 19 higher than WSU's.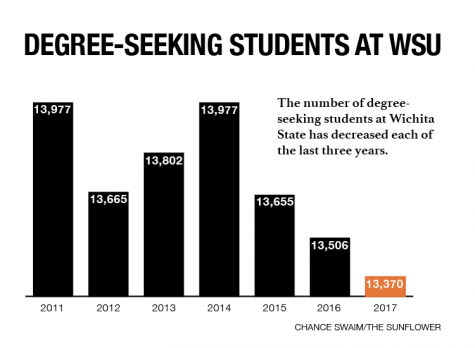 Chance Swaim
Senior citizens, high school students, and working professionals
Badge courses award a half-credit hour to high school students taking AP classes, non-degree-seeking students in self-directed online courses, and senior citizens in courses offered at local churches and retirement centers that meet four times a semester for two hours at a time.
Students in badge courses are not required to pay student fees. There are no grades in the courses. Students either receive a badge, which shows up on their transcript after completion, or they don't.
"Badge enrollment is counted in the overall headcount. Departments also get to count students in their totals," said Kimberly Moore, director of the Workforce, Professional, and Community Education program.
WSU began counting badge courses as part of its headcount last year. At that time, the university had seven badge courses with 55 students. There are now 36 badge courses at WSU with 843 students.
Other state universities have comparable programs — Kansas State's Professional and Personal Development program and the University of Kansas's Professional and Continuing Education program — neither of which count towards enrollment. That's because the courses are not taken for college credit.
"We're pioneers when it comes to for-credit badges," Moore said.
Investing millions in student recruitment
Since John Bardo became president in 2012, the university has spent more than $12 million on admissions and recruiting to boost enrollment — including more than $3.7 million for a marketing program with a Virginia-based enrollment management company, Royall & Co — according to documents obtained by The Sunflower through a Kansas Open Records Act request.
That amount — $12 million — includes enrollment, marketing, and salaries for the office of admissions, which focuses heavily on recruiting new students to WSU.
Since 2012, WSU's overall headcount has increased by 183. That is over $65,500 spent by the university per one-student increase in enrollment. This amounts to more than double the tuition and student fees of one in-state, full-time undergraduate student for four years.
On June 14, the university extended its agreement with Royall & Co through May of 2020. This year, WSU will pay the company $716,730 for its recruiting program and $118,394 for access to lists of students.
Next year, WSU will pay the company $773,980 for its recruiting program and $132,039 for access to lists of students.
The year after that, WSU will pay the company $833,160 for its recruiting program and $146,395 for access to lists of students.

The largest freshman class in history?
The last two years, WSU has touted the largest first-time freshman class in school history.
A university press release from Sept. 29 stated that the "new first-time freshman class of 1,436 students is the largest in school history for the second consecutive year."
There is a difference between the first-time freshman count and the official freshman class.
David Wright, chief data officer, said the first-time freshman class is solely comprised of "students we recruit from local and national high schools as they graduate."
The overall freshman class consists of any student classified by number of credit hours as a freshman — including new and returning freshmen transfers and freshmen returning adults.
When someone says WSU has the largest freshman class in history for the second year in a row, that's not true, according to official headcounts reported to the state.
Both the 2016 freshman class of 2,186 and the 2017 freshman class of 2,216 are smaller than the 2014 freshman class of 2,301.
Semantics aside, the university viewed the results as a success.
"After we take some time to celebrate, our journey continues with an additional focus on improving retention and degree completion," Bardo said in the university statement regarding the enrollment numbers.
The Master Plan
According to the university's master plan, framework for the Innovation Campus — along with the increase in student fees to build the YMCA — were based on the assumption that enrollment would hit 22,000 in the near future.
The master plan states that it "tests a future enrollment of 22,000 HC (headcount) students at all locations based upon conversations with university leadership."
The master plan also states that it "identifies land for a new Innovation Campus, housing technology transfer and research functions with the goal of engaging university research and business activities with local business and industry."
Enrollment is nearly 7,000 below the goal number — including the late influx in half-credit-hour badge course students and senior citizen half-credit-hour students — while construction on the Innovation Campus is well underway. The GoCreate and Experiential Engineering buildings, The Flats apartments, Starbucks, the Food Truck Plaza, and the new Airbus location are all in use. Construction is in progress on Braeburn Square and a second partnership building, with plans for more buildings in the works.
Applications down for everyone but non-degree-seeking students
As of Sept. 18, Wichita State had received 14,132 applications for the fall 2017 semester — down from 15,609 at the same point in 2016.
According to the "Fall Application Weekly Freeze Data" from the Office of Planning and Analysis, less applications had been processed for graduate students and undergraduate freshman and transfer students — both domestic and international — than in 2016.
The only demographics to see growth in processed applications from 2016 are non-degree domestic undergraduate students — up 36.0 percent from 322 to 438, non-degree international undergraduate students — up 9.4 percent from 32 to 35, and non-degree graduate students — up 38.3 percent from 47 to 65.
View Comments (17)
About the Contributors
Chance Swaim, Former Editor in Chief
Chance Swaim was the Editor in Chief of The Sunflower from fall 2017 to spring 2018.

Swaim was a graduate student in the English Department working...
Matthew Kelly, Former Editor in Chief
Matthew Kelly is a former editor-in-chief and managing editor for The Sunflower. Kelly graduated in 2020 with a bachelor's degree in political science...