Phi Delta Theta under suspension, investigation for sexual misconduct at annual Luau event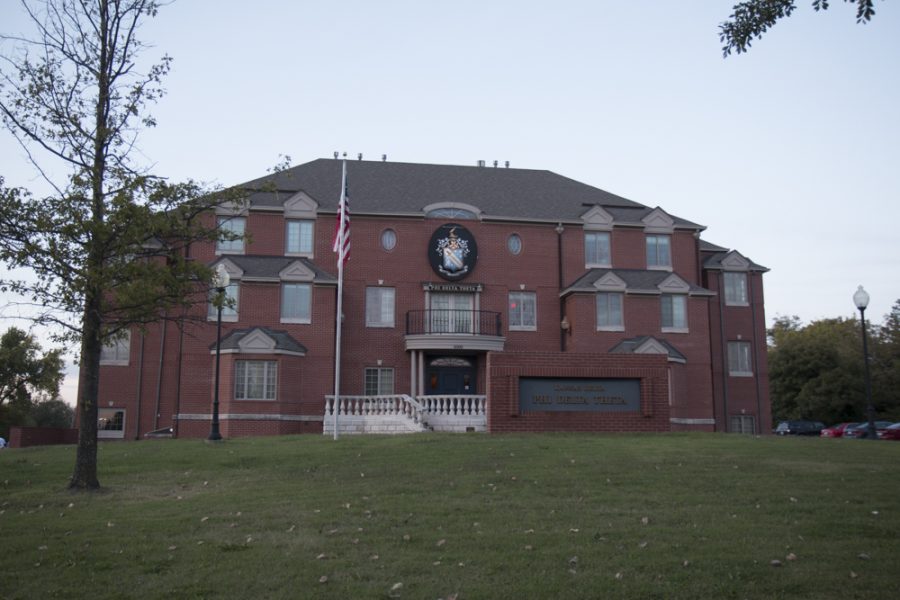 Phi Delta Theta fraternity is under suspension and investigation by Student Conduct and Community Standards due to multiple allegations of misconduct — including sexual misconduct in 2016 — stemming from their annual Luau event, held at the end of September. The suspension will be upheld until the investigation into the multiple allegations is closed.
A statement from Student Conduct and Community Standards, sent the week after this year's Luau, described multiple female Greeks experiencing "non-consensual sexual behavior during a Luau event hosted by Phi Delta Theta Fraternity in fall 2016." Mandy Hambleton, deputy Title IX coordinator for students, sent the statement out to the heads of sororities involved.
While on suspension, members of the fraternity are prohibited from engaging in any form of chapter operations or fraternity-related involvement on or off campus, including Shocktoberfest and Songfest, Student Involvement Assistant Director Tia Hill said.
Fraternity presidents and representatives were made aware of the suspension at last week's Interfraternity Council meeting.
Sororities with members who reported sexual misconduct at Luau were contacted by Student Conduct and the Title IX office near the beginning of October, an anonymous sorority member who attended Luau said.
After saying what was reported indicated "non-consensual sexual behavior during a Luau event hosted by Phi Delta Theta Fraternity in fall 2016," Student Conduct's statement — pulled largely from section 8.16 of WSU's Policy and Procedures — went on to say, "These incidents may cause serious physical and/or psychological harm. Wichita State University maintains a comprehensive program to support those who are involved in such incidents, and will respond promptly and equitably to reports of sexual misconduct, relationship violence, and stalking."
"The University has a responsibility to eliminate the behavior, prevent its recurrence, and address its effects on any individual and/or the community. Retaliatory actions against any individual involved in reporting or participating in the investigation of a complaint will not be tolerated. Individuals who engaged in personal use of alcohol or drugs around the time of an alleged incident will not face disciplinary charges for that behavior."
Hambleton confirmed the investigation and statement, and confirmed that sexual misconduct allegations are related to 2016's Luau. She did not say what the allegations from this year's Luau were, or why allegations about 2016's Luau have now surfaced.
Hambleton could not provide further detail so as to protect the integrity of the investigation and individuals involved, she said.
Title IX of the Education Amendments of 1972 forbids sexual harassment and sex discrimination in educational institutions that receive federal funding. Schools are legally required to respond promptly and effectively to remedy hostile educational environments.
When asked if the Title IX office's involvement confirmed allegations of sexual harassment, Director of Student Involvement Nancy Loosle said, "The investigation is still ongoing and could involve multiple areas of misconduct. Once the investigation is completed, they will have a more clear picture of what areas are involved."
Several members of the Greek community were willing to speak about the case, but all refused to be identified for this story because of instructions from investigators or fear of backlash from the Greek community for speaking out.
A sorority member said she was brought in for an interview with Student Conduct during the first week of October because she was on the list of Luau attendees. She said she was aware of many sorority members who had individual meetings with Student Conduct.
She said she was questioned about 2016's Luau in addition to this year's, but this was the first year she attended.
She said she was asked general questions — if there was hazing, underage drinking, where she spent the night. She wasn't told what the allegations were, or who alleged there was misconduct, she said.
"They asked me questions about where everyone slept and if I was dating the guy who brought me," she said.
She said she talked about the allegations with a Phi Delta Theta friend of hers outside of the interview. He was "very secretive" about why the fraternity was under investigation, she said.
"He was not specific in any way," she said. "He just said they were on suspension."
Luau — a Hawaiian-themed, off-campus Phi Delta Theta annual party featuring tiki torches and floral leis — was held this year at an alumni's residence near the Waterfront at 13th Street and Webb Road on September 30. The event ends with attendees sleeping in tents. Guests invited as a date are allowed to share the tent of their inviter.
Some of the guests who weren't comfortable sharing a tent also slept in cars, according to an attendee. Sorority members also had the option of sleeping in a tent designated for their sorority, the attendee questioned about the Luau said.
"I brought my own tent so it wasn't an issue for me."
As of Tuesday afternoon, the president and representatives of Phi Delta Theta did not respond to requests for comment.
September's banner investigation
This is the second investigation into Phi Delta Theta fraternity in two months. The fraternity suspended two chapter members and was briefly under investigation by Code of Conduct and Title IX in September after a banner encouraging new sorority recruits to visit for "free house tours" was hung from a window at their frat house on the first day of sorority recruitment. A photo of the banner was posted to social media, sparking immediate backlash.
The Foundation for Individual Rights in Education (FIRE) sent a letter to President Bardo criticizing the university for violating free speech rights protected by the First Amendment in response to the banner investigation.
After the investigation was finished, Code of Conduct did not discipline Phi Delta Theta. University officials agreed the banner was constitutionally protected.
An earlier version of this story said Phi Delta Theta members are allowed to bring more than one guest or date to Luau. This was pointed out as incorrect by multiple attendees to Luau and has been removed.
About the Contributors
Andrew Linnabary, Digital Managing Editor
Andrew Linnabary is the 2018-2019 Digital Managing Editor of The Sunflower.

He is a senior studying journalism and minoring in English. Linnabary is...
Selena Favela, Photographer
Selena Favela is a photographer for The Sunflower.

She was the photo editor for The Sunflower her junior year. Favela is currently a senior majoring...