How Wichita State boosted enrollment leading up to the official headcount
Wichita State counted senior citizens, high schoolers, and university faculty enrolled in free, half-credit-hour, open admission classes to achieve the highest enrollment increase in the state.
Earlier this month, The Sunflower reported that WSU achieved the largest enrollment increase of any four-year regents university in the state through a late push to enroll non-degree-seeking senior citizens and high school students in free, half-credit-hour courses.
Besides high school students and senior citizens, WSU enrolled university employees — including faculty — in free, half-credit-hour courses before reporting the largest enrollment increase in the state.
On Sept. 29, WSU announced an increase of 607 students from last fall. Without high school students, senior citizens, and WSU employees enrolled in half-credit-hour badge courses, headcount would have been down by 110 students.
The third day of fall classes, when enrollment was losing pace with last year's numbers, Rick Muma, senior associate vice president for academic affairs and strategic enrollment management, sent an email to 85 university leaders telling them their employees could take free badge courses if they signed up by Sept. 15 — the Friday before the official enrollment count was taken on Monday.
"This is an opportunity to provide professional development to your employees at no cost to your department," Muma's Aug. 23 email said.
Then, underlined and bolded, Muma wrote, "Remember the deadline to get admitted and enrolled is Sep[t.] 15th, 2017."
"Please pass this on to your employees and others in your units," Muma said in the email.
Muma said in an email response to questions about enrollment that between the date of his email to department heads and Sept. 15, 58 WSU employees signed up for free, half-credit-hour badge courses. Ten of those employees were faculty, Muma said.
The identities of faculty members and university employees enrolled in badge courses is protected by FERPA, also known as the Federal Educational Records Protection Act, and therefore unavailable to The Sunflower.
Muma said in his email to department heads that employees' GPAs will not be affected by the badge courses and that they could post the badge on their social media sites to show they have "mastered a particular skill."
"When finished they get college credit on their transcript, but it will not affect their GPA as it's pass/fail (or badged or not badged)," Muma said in the email.
"The employee also receives an electronic badge if they pass, which can be posted on Facebook, LinkedIn, etc. as a way to demonstrate to their social media connections they have mastered a particular skill."
In an email response to questions about the timing of the message to department heads, Muma said: "University employees were offered the ability to take badges earlier in the summer. We wanted them to have the same opportunity to be scholarshiped like everyone else."
In his email to department heads, Muma pointed to specific badge courses for university employees.
Those were Human Resources Management badges and Professional Writing Series badges.
According to Muma, 17 WSU employees enrolled in Human Resources Management badge courses. Twenty-two university employees enrolled in Professional Writing Series badge courses. All of those employees were non-degree seeking, and all enrolled between the day of Muma's e-mail and the 20-day headcount.
WSU began counting badge courses as part of its headcount last year. At that time, the university had seven badge courses with 55 students. There are now 36 badge courses at WSU with 843 students. According to Muma, in his Oct. 5 letter to the editor, this is all part of WSU's "Strategic Enrollment Plan," or SEM.
"In order to reach the SEM plan enrollment goal of more than 18,000 students by 2020 (not counting WATC students), we will need to grow enrollment by about 5 percent annually in all areas, traditional, transfers, online and even non-degree bound students," Muma said in the letter.
According to university reported data, degree-seeking students are down. Transfer students are down. Online and badge course students are up.
While the number of badge course students increased by 788 — or 1,433 percent — from last fall to this one at WSU, the number of degree-seeking students decreased by 136 — or 1 percent. Transfer students decreased by 23 — or 1.8 percent. Full-time online-only students increased by 860 — or 17.2 percent.
In response to "the various news stories related to enrollment in recent weeks, and questions that faculty have asked and been asked," University Registrar and Director of Enrollment Services Gina Crabtree sent out an email announcement this week to WSU faculty instructing them about what information they are allowed to provide to the media.
"WSU faculty and staff may not share any student-specific information with a third-party (includes parents, other students, media, etc.)," Crabtree said in the email.
"It is fine to answer questions regarding the number of students enrolled in a course, but no lists or descriptors of any kind can be shared that might reveal a student's enrollment in a particular class," Crabtree said in the email.
'Jump start your college transcript now'
The university made an effort to increase the number of high school seniors taking badge courses in the two weeks leading up to the enrollment count.
An Aug. 31 email from the university offered "two fully-online and self-paced badge courses" to all high school seniors accepted to WSU for fall 2018, at no cost.
In two weeks, 281 students enrolled in the free courses geared towards high school students.
The two courses — Library Research: Introduction and Library Research: Resource Use, Citations, and Plagiarism — are instructed by librarian Angela Paul.
The introduction course is divided into three groups, with 195 total enrollees — 88 students are enrolled in the open class, which is available to anyone, 84 Wichita East High School students are enrolled in the course through the Advancement Via Individual Determination (AVID) program, and 23 Wichita West High School AP students are enrolled in the course. The advanced class has an enrollment of 86.
The badge course was mandatory for AP Language students at Wichita West.
The email from the university — headlined "Exclusive offer for Future Shockers" — said that the courses should take less than ten total hours to complete and are worth one-half credit hour each.
"We commend you for being ahead of the curve and in acknowledgement of that, we want to jumpstart your college transcript now," the email said.
Paul said that the cutoff for free enrollment in the courses coincided with the 20-day enrollment count.
"The deadline was the 20th day of enrollment," Paul said.
High school students enrolled in badge courses do not count as first-time new freshmen.
Like the email sent to university employees, the email sent to high school students tells them they'll receive an "electronic badge that you could post to your social media and/or electronic resume to demonstrate your mastery of these essential skills."
Muma said the timing of the email to high school students coincided with the high school school schedule.
"'High schoolers' don't return to school until late August. This is also the timeframe we contact students about enrolling in concurrent enrollment courses," he said in an email.
Wichita's school district began classes Aug. 23. WSU sent the email Aug. 31.
"We have hundreds of students adding/dropping in the first 4 weeks of class and have various outreach efforts to get them enrolled by the Friday before the 20th day. We freeze our enrollment data on the 20th day and students not enrolled by that day cannot be counted in WSU's enrollment reports to state or Federal agencies," Muma said in an email.
'Technical Difficulties'
Tina Sorenson, an English teacher at Wichita West High School, said she learned about the badge course program from a flier she found in her staff mailbox in September, advertising free badge courses to high school students.
Sorensen, who takes yearly field trips to WSU with her junior AP language class to see the campus and study at Ablah Library, made the library research badge a requirement for her AP class.
"I made it mandatory for AP because it's free," Sorensen said.
"They do the majority of the work on their own, but there's only four modules and there's really not a lot," Sorensen said.
"I want them to be able to learn to research properly, to know what is fake and what's considered legitimate."
Sorensen said some of her students have had trouble logging in to access their badge course work. She said she worked with a university technician who said there was a "glitch" in the system.
"He said something about that there was a glitch between enrollment of students who were actually enrolling as college students compared to students in high school working on a badge course," Sorensen said.
Muma said the issue is not a result of the high school students' non-degree-seeking status.
"There's no 'glitch in the system between degree-seeking and non-degree-seeking students,'" Muma wrote in an email. "The University has had some technical difficulties with students setting passwords (not their IDs), especially when they apply and are admitted on the same day."
Badge courses do not require test scores or transcripts for admittance, and students can apply and be admitted on the same day.
In a separate email, Muma said, "Counting someone on the 20th day has no relevance to whether they have accessed course content, whether that's in an online course, a face-to-face course, etc."
Sorensen said she still thought the library badge course was a good idea, but she was frustrated that she had to spend three class periods working with the university to get all of her students logged in.
"Professional-wise, they were awesome," Sorensen said. "It's just that the technology problem was really irritating and it wasted a lot of time because it's AP and we already have a shortened schedule."
View Comments (8)
About the Writers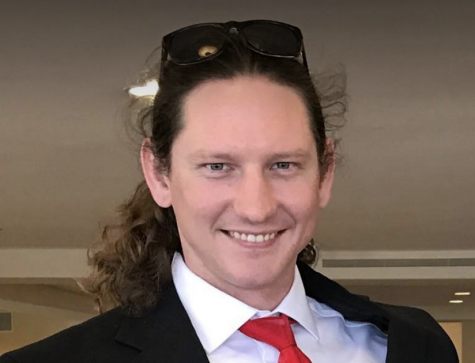 Chance Swaim, Former Editor in Chief
Chance Swaim was the Editor in Chief of The Sunflower from fall 2017 to spring 2018.

Swaim was a graduate student in the English Department working...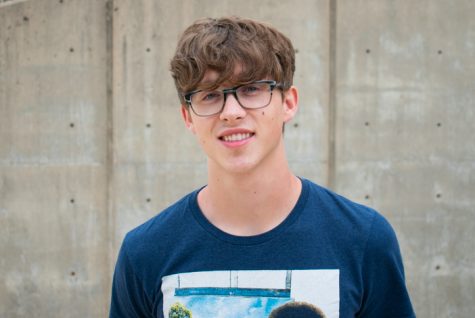 Matthew Kelly, Former Editor in Chief
Matthew Kelly is a former editor-in-chief and managing editor for The Sunflower. Kelly graduated in 2020 with a bachelor's degree in political science...