Cooper: Kanai, All About the Fish
On the outskirts of Wichita, well beyond the reaches of downtown continental eateries and hipster bars, there rests a dining establishment by the name of Kanai. The Sushi and Sake bar has been spearheaded by head sushi chef David Kanai of Kyoto, Japan for the better part of the last decade. The first thing you should know about this place is, it's not Wasabi, Sakura, Yokohama or south city's Jackie Chan sushi. You won't find much in the way of noodle dishes or Ramen. That said, the cuisine here feels heartily Japanese and that is from a white guy who drives a Pontiac. It's all about the fish at Kanai. That is the one point which makes Kanai so special.
Setting
Kanai is a traditional sake bar style restaurant with booths, tables and a bar for those who just want to partake in a bottle of Gekkeikan. Kanji-adorned scrolls line the walls and a dimly lit dining room make for a homely, light atmosphere to dine on sashimi with friends over a bottle of wine or cocktails, of which Kanai offers many. If seated in the middle of the dining room or at the bar, customers are treated to the spectacle of witnessing Chef Kanai hand preparing dishes before they are served to customers. This is a treat on its own given the freshness and beauty of the cuts of fish that are served in the restaurant.
There is a Japanese word for what one witnesses in seeing Kanai prepare dishes: Kodawari. It means a striving for or determination for perfection. I experienced nothing less in my eating experience there.
The sashimi
In terms of cuts of fish and sushi rolls, Kainai offers just about anything you could possibly think of. Traditional and crunchy tempura rolls served with crab, eel, tuna, albacore, whitetail, snow crab and octopus — it's all here. Specialty rolls include:
The Kawaii — Shrimp tempura topped with snow crab
The Invader — Deep fried jalapeno, cream cheese & spicy tuna with grilled baby octopus
The Shinjyuku— Deep fried shrimp, eel, crab with spicy tuna, scallions topped with eel sauce

Matt Cooper
Edamame, boiled soybean in a shell and lightly salted, is a great addition to any of Kanai's copious variety of dishes.
With fresh market cuts of fish being the specialty at Kanai, that is what I felt compelled to try. I ordered a sample sashimi platter which Kanai aptly calls the "Sea of Japan." It includes Kanai's combination of maguro (tuna), albacore, whitetail, salmon, octopus, squid and sweet scallions. All is then served on a bed of greens which are then covered in Kanai's special kiwi-based sauce for a little extra flavor. To add to the experience, I ordered a Momiji roll served with spicy tuna, albacore and garlic ponzu sauce. Then for a dose of vitamin K, I added a gratuitous bowl of salted edamame. 
The verdict
Kanai's dishes are distinctly Pacific, rich and completely delicious. They seem deliberately conceived for a palate which has tasted seafood and sashimi but has yet to experience something exponentially cathartic.
The "Sea of Japan" is definitely a staple if looking for something to sample. All the cuts of fish are tender, juicy, rich and sweet. When combined with the kiwi sauce, the cuts have hints of soy and contain an aftertaste of peach, but are by no means overly saturated with flavor. One standout in the dish is the Tako (Octopus). It is chewy, as octopus tends to be. However, the flavor never leaves the cut; this is rare, impressive and tasty. Even the slices of kiwi that come served with the cuts of sushi are mouthwatering.
The Momiji roll as well as a nice addition. It is very spicy and bitter at first. But, the topping albacore is rich, salty and tender to a maximum degree. To boot, the edamame might be the best I've ever tasted; not too salty, not too dry, it complimented the meal well.
Post-meal, Kanai's menu features three different desserts: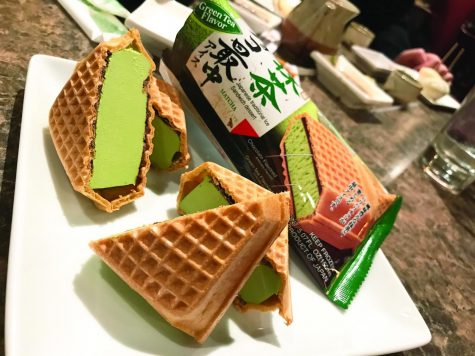 Mochi ice cream in peach, strawberry and green tea flavors
Green tea ice cream bars (I tried this one and it is no Klondike bar. Give it a try.)
Oranges served with plum wine
Price
Don't get me wrong here, Kanai's prices are a far cry from being dirt cheap. Two slices of any cut of sashimi will cost you around $8.00. Any sushi or tempura rolls run at $10.00 and above. Appetizers come in at around $8.00 a piece.
That being said, everything is well worth the price. Each dish I tried was a revelation to my sense of taste and you can't put a price on that. If you're standoffish about going out to eat and having a large bill, go to Kanai solo and dine for one. That way, your ticket won't exceed $20-$25.
In conclusion
In the 12th century Japanese Waka poet Saigyo wrote these lines:
As I inquire of the pathway of the gods
About what lies beyond,
Above me looms a matchless peak
Where the wind sings in the pines.
It seems detached. But, bear with me. Saigyo gave up on Japanese society at age 22 and exiled himself to the mountains of southern Osaka. There he wrote poetry, meditated and lamented upon the simple things of life. I think just maybe, the above verse sings of what Kanai's restaurant similarly represents.
It seems Saigyo meant that we sometimes have to travel far from home to find an inkling, a taste of what our souls most desire. In the end, Kanai's sushi dishes are similarly cathartic, rich, revealing and meditative to the palate. Go out of your way some afternoon and experience the magic of Kanai, like Saigyo traveling off the beaten path.
Leave a Comment