After his mother's death, freshman finds healing in helping others
Leaders, like the rest of us, face adversity. But how do you lead while facing the most difficult loss of your life?
Incoming freshman Ngoc Vuong found the solution by helping others overcome their own struggles.
The night after Vuong's sophomore year homecoming at Wichita South High, he was at a temple with his family when his mother suddenly collapsed. She was admitted to the hospital, where doctors soon discovered she had suffered a brain aneurysm.
"We didn't get much sleep," Vuong said. "We were just kind of waiting to hear some good news, but good news never came."
As Vuong's family waited in a private room, the doctors updated the family on his mom's chance of survival. Forty percent. Twenty percent. Ten percent. Eventually, zero.
She died Sept. 28, 2015 at 4:24 p.m.
"Even now, every time it's 4:24 p.m., I just look back and think of what happened," Vuong said.
Vuong graduated this spring from South, where he served as student body president his junior and senior years and was a member of the leadership advisory council for all four years. His passion for leadership took root when he was in middle school.
"A lot of my teachers noticed this passion I had for politics, and some of them even dubbed me a 'future president,'" Vuong said. "'Politician' can have a negative connotation to it, but I kind of saw myself as a leader in my community — a statesman, if you will."
As a first-generation Vietnamese-American, Vuong said a strong sense of cultural pride taught him about his own identity and shaped his view of others.
"We were kind of just expected to speak Vietnamese at home as a way of preserving such a significant part of the culture," Vuong said. "Being acclimated in that kind of environment made me appreciate who I am and where I come from."
After his mother's death, Vuong was in a state of disbelief and confusion.  
"If there was anyone who cultivated my leadership and my passion for helping others, it was definitely my mom," Vuong said.
Vuong recalled his mother telling him as a child, "I'm not sure if I'm going to live that long to see you grow, but I have complete faith that you're gonna do a lot of good for this community."
In spite of his own grieving, Vuong eventually realized he could help others who had also faced tremendous obstacles early in life.
As a junior in high school, Vuong continued his work with the leadership advisory council under a new position: mental health chair. Through that role, he developed a campaign to destigmatize mental illness and promote dialogue about mental health.
"There's countless other people in this situation after a loss," Vuong said. "Sometimes they're not fortunate enough to have a close support group that cares about them."
Vuong hosted seminars with the National Alliance on Mental Illness (NAMI), presentations with former WSU Student Body President Joseph Shepard and WSU graduate Tracia Banuelos, as well as a student-focused talent display called the Hope Show.
Orchestrating the campaign inspired Vuong to form ICTeens in Mind, a citywide organization that supports youth affected by mental illness and promotes student-led awareness initiatives.
Courtney Bell, career and college counselor at South High, serves as the staff sponsor for the leadership advisory council. She described Vuong's growth as a leader.
"When he first joined (the leadership advisory council) as a freshman, he was actually, believe it or not, a pretty quiet, shy guy," Bell said. "Intelligent, but just kind of weary about being outspoken or finding his place."
Bell said that, over time, she saw Vuong's involvement in the community expand through leadership roles in his school and city — including the Mayor's Youth Council.
"Before (ICTeens in Mind), he wanted to make a positive difference in our community and our school, so he would get involved with everything," Bell said. "His focus was really broad, and then after his mom died, it really narrowed to his own depression, how he felt after that, and how he recovered."
For their mental health efforts, ICTeens in Mind received two $1,000 grants from the Wichita Community Foundation.
"The truth is, a lot of our teenagers go through a tremendous amount of adversity, whether we like to think so or not," Vuong said. "Everyone needs a little help sometimes. Sometimes that's me, sometimes that's someone else."
Vuong was recently appointed as a community mobilizer for the Partners of Wichita. He said the next goal for the group is to become integrated under the non-profit organization through their Safe Streets coalition.
"During my senior year, one of the biggest things I wanted to do was turn (ICTeens in Mind) into a nonprofit," Vuong said. "(Partners for Wichita) definitely saw a lot of potential with ICTeens in Mind."
Vuong will join the WSU honors college as a Lenora McGregor scholar. He also received the Aaron Joel Smith Youth Volunteer Scholarship from United Way and a scholarship from the Head Start Foundation.
"Winning the scholarships wasn't about bragging about it," Vuong said. "It was kind of like showing it to my mom."
As a psychology major at Wichita State, Vuong said he hopes to get involved with the student mental health organizations on campus and to someday be involved with Student Government Association.
"This is where I am now. Even though [my mom] isn't here now, I've applied what I've felt from this experience to try to better myself."
Leave a Comment
About the Contributors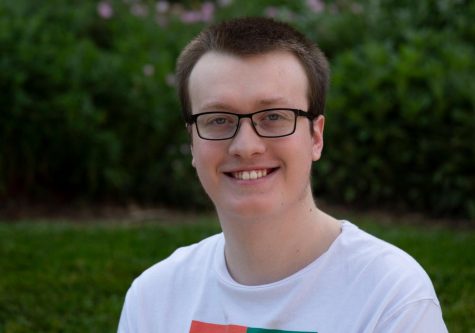 Daniel Caudill, Former Editor in Chief
Daniel Caudill is the former editor in chief for The Sunflower. A staffer at the paper since 2017, Caudill first covered Student Government Association...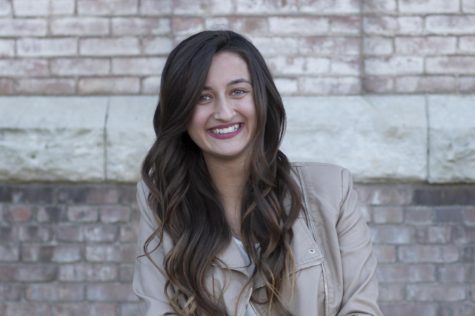 Selena Favela, Photographer
Selena Favela is a photographer for The Sunflower.

She was the photo editor for The Sunflower her junior year. Favela is currently a senior majoring...