Volleyball works through growing pains in midst of four-game losing streak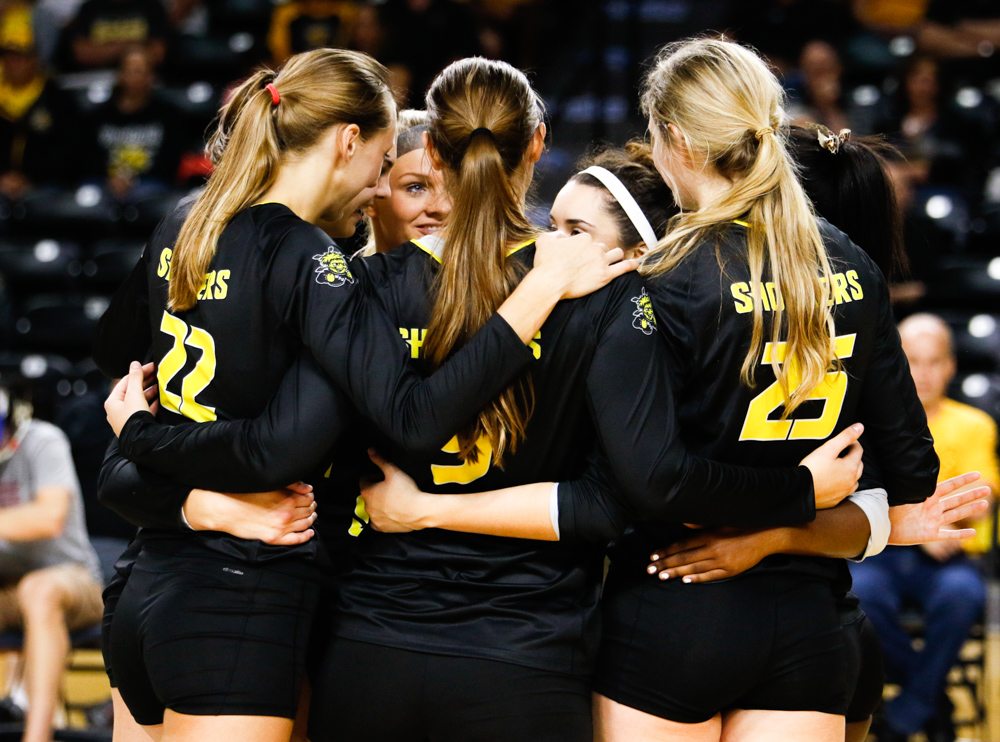 Volleyball Head Coach Chris Lamb said he doesn't mind his team's four-game losing streak.
"I don't know the last time I lost four," Lamb said on his weekly radio show Monday. "But I feel like we've just been let out of a cage — and we're feeling pretty good about things."
Lamb hasn't lost more than two consecutive games since he's been with Wichita State.
The cage was a long, four-game road contest that included No. 1 Brigham Young, No. 2 Stanford, and No. 10 Creighton. Iowa State, who defeated WSU last weekend, was ranked one spot out of the top 25 in this week's AVCA poll. WSU received votes in the poll for the fourth time this year.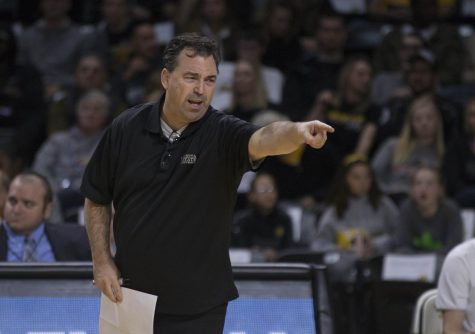 We're four and four, but you can tell we're growing," Lamb said. "We don't have a signature win against one of the shinier teams — but everybody we've had is No. 25 to No. 1."
All of the opponents WSU has faced in their eight games this season had postseason bids last year.
WSU secured the automatic bid to the NCAA Tournament last year after winning the American Athletic Conference with a perfect record. WSU hosted an NCAA Regional, but lost to Missouri in the second round.
"There's no guarantee that you get the automatic qualifier," Lamb said. "We built this schedule for what it's going to look like two months from now."
Against Creighton last weekend, in a match that was over in four sets, Lamb said he saw a different fight than what he saw out of his team a season ago.
"I think they knew that we weren't the better team," Lamb said of his team. "But I also think they felt that we were in it because we were fighting.
"That's what we've been waiting for."
WSU's schedule should ease up in their final road stretch before hosting their home-opener next week.
"There's one kind of pain you can live with, and that's growing pain," Lamb said.
This weekend, WSU will face Stephen F. Austin, North Texas, and Cal Poly, in a three-game tournament challenge.
Cal Poly has a 7-1 record and is ranked No. 14 in the AVCA Poll.
About the Contributors
Evan Pflugradt, Sports Editor
Evan Pflugradt is the former Sports Editor of The Sunflower.

Pflugradt past served as the publication's Editor in Chief, Opinion Editor and a reporter....
Selena Favela, Photographer
Selena Favela is a photographer for The Sunflower.

She was the photo editor for The Sunflower her junior year. Favela is currently a senior majoring...